BLOG
Magento 2 Extensions
Written by ITORIS Team, 2016-10-06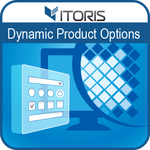 If you are the owner of a store, you might get into situation when you need to create dependent custom options, for instance, to apply custom design to products. By defaults Magento won't allow that. The ITORIS team developed an extension which allows to create complex option-based products. It's called the Dynamic Product Options extension for Magento 2.
The extension includes dependent custom options, when one option or multiple options depend at the same time. Creating dependent custom options is not so challenging as it seems. Such options will help to make products visible or hidden if a specific choice is selected. Thus the options make the frontend's look more professional and easy to use.
Read more...
Videos
Written by ITORIS Team, 2016-10-04
Have a private or wholesale store? Want only registered customers browse your catalog, see prices, and place orders?
Hide the entire store behind the login form using the Store Login Access extension for Magento2.
Read more...
Videos
Written by ITORIS Team, 2016-09-23
Want to add more fields on the registration form and extend the customer profile? It is easy with the Registration Fields Manager for Magento 2!
The purpose of the Registration Fields Manager extension for Magento 2 is to allow to create more customers' attributes. Admin can easily add more fields on the registration form, group fields into sections on a long form, translate them for different store views, reorder existing fields.
Read more...
Magento Extensions
Written by ITORIS Team, 2015-10-05
Magento has recently released a new security patch SUPEE-6788 along with Comunity version 1.9.22 and Enterprise version 1.14.2.2. The details can be found here - https://magento.com/security/patches/supee-6788-technical-details
One of the security fixes delivered with the patch is disallowing backend URLs not starting with /admin/ or with your custom backend path. ITORIS has been working on updating all extensions for the new security standard. All patches for SUPEE-6788 will be provided for free.
Read more...
Videos
Written by ITORIS Team, 2013-01-23
Managing products can be a challenge, especially when there are plenty of products.
Advanced Product Grid module solves the issues perfectly - it provides a set of convenient management tools to easily update products, allows bulk management and AJAX-driven interface to fasten the products' management.
Read more...
Videos
Written by ITORIS Team, 2012-12-19
When you need downloadable files on your Magento website - the easiest way to add them is with Attachments Anywhere module.
Add downloads to your product pages, CMS pages and even to customers' dashboard in minutes with convenient modern upload and AJAX-driven interface.
Read more...
Videos
Written by ITORIS Team, 2012-12-05
Want your customers find your products and articles immediately and get the results they really want? Try Instant Search and Suggestions module. Results while customers still type, pro technology for ideal relevancy as well as searching among the entire website make this module the best choice for your search functionality demands.
Read more...
Videos
Written by ITORIS Team, 2012-10-10
Add a tabular interface on the Homepage or anywhere else on your Magento. You can create content tabs with texts, images, links as well as insert widgets in the tabs. Your customers will see tabs that can be changed on click or on hover, that will preset sliders with your best products, important information, frequently asked questions and anything else you wish. Not only that it is a modern approach to organize information in tabs, but also you can add more and make sure nothing is lost or ignored.
Read more...
Videos
Written by ITORIS Team, 2012-10-10
Arrange your best products on the Homepage or anywhere else on your Magento in a nice slider. Your customers will scroll the products to see more and select the ones they want. Save space and organize your website in a modern way. Sliders are inserted as widgets, you can add as many sliders as you wish. They can contain different types of products - bestsellers, recently added, most rated or reviewed, most often added to wishlists. Products on sale can be added to the sliders as well as products from a selected category or several categories.
Read more...
Videos
Written by ITORIS Team, 2012-10-10
Embed beautiful sliders anywhere on your Magento including Homepage. Slider will have the main area with any content you create (images, texts, links) as well as small preview tabs where you can insert images and text as well. Make your slides clickable and redirect your customers to the important pages of your website - or create an image gallery with description.
Read more...
<< Start < Prev 1 2 3 4 5 6

7

8 9 10 Next > End >>


Page 7 of 10