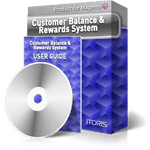 Nowadays companies are strengthening their efforts to increase brand's awareness. There are a lot of ways how to build mutually beneficial relationship with your customers and stimulate their demand for products or services. One of these ways is providing your customers with earning points for purchases and social activity. It's possible with the Customer Balance & Rewards System extension for Magento.
Your customers will be able to earn reward points by registering an account, buying certain products, sharing balance with friends, receiving points for the orders that can be redeemed for future orders, and more. Or customers can make purchases using reward points only. Such activity can make users visit your store more often as well as invite new visitors.
Let us guide you through the general settings and show how to use reward points in Magento. After the extension is installed, please go to the main settings System –> IToris extensions –> Customer Balance & Rewards -> Configuration. These settings allow to set prices display and purchase modes, enter alias, show detailed calculation on the Frontend, send emails, configure customer balance, rewards and gifts.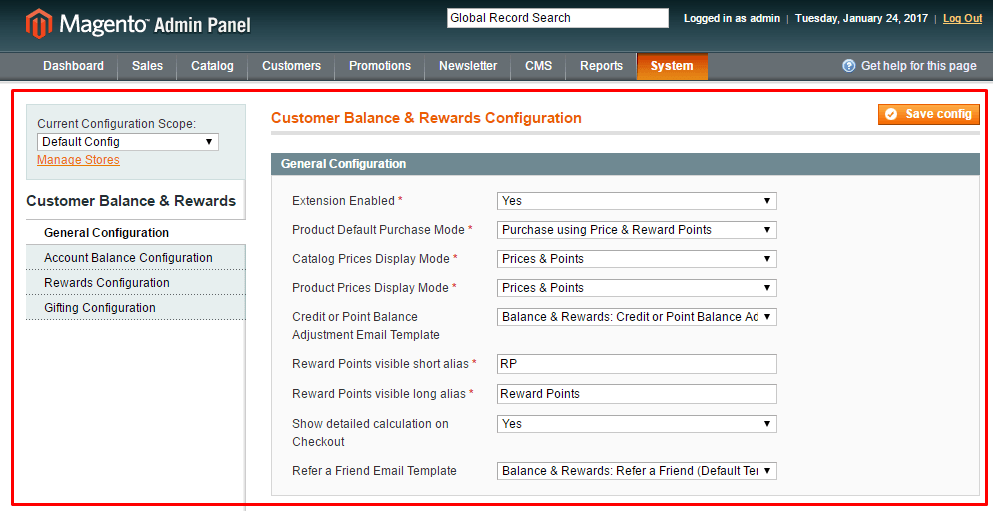 Customer balance is a mutual settlement between customer and website. The extension allows to use two currencies, money or credits and reward points, that can be converted to each other. Customers are able to top up their balance with money. Thus they may accumulate points that can be used to purchase services or goods later on. For instance, reward points can be assigned to your customer for reviews writing, creating an account, inviting friends, purchasing products, or other social activity. If the customer completes all these tasks, points or credits can be used for future purchase.
Admin can configure the customer balance in the backend. Each customer account contains information about "Customer Balance & Rewards".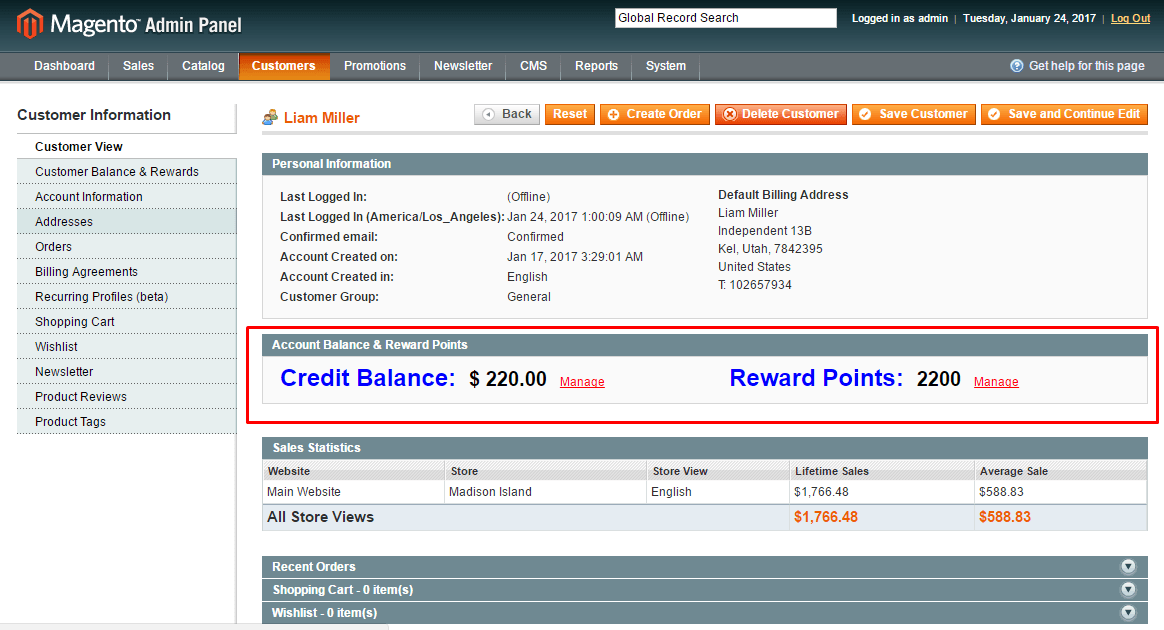 To edit the balance or points, click link "Manage" or select the "Customer Balance and Rewards" tab. Admin can covert credits or reward points in the special sections ① and ②. By default the full available amount is entered in the conversion field. Also admin is able to add credits to the customer's balance or subtract it, or add a comment. After all actions are completed, press buttons "Add Credits" or "Add RP".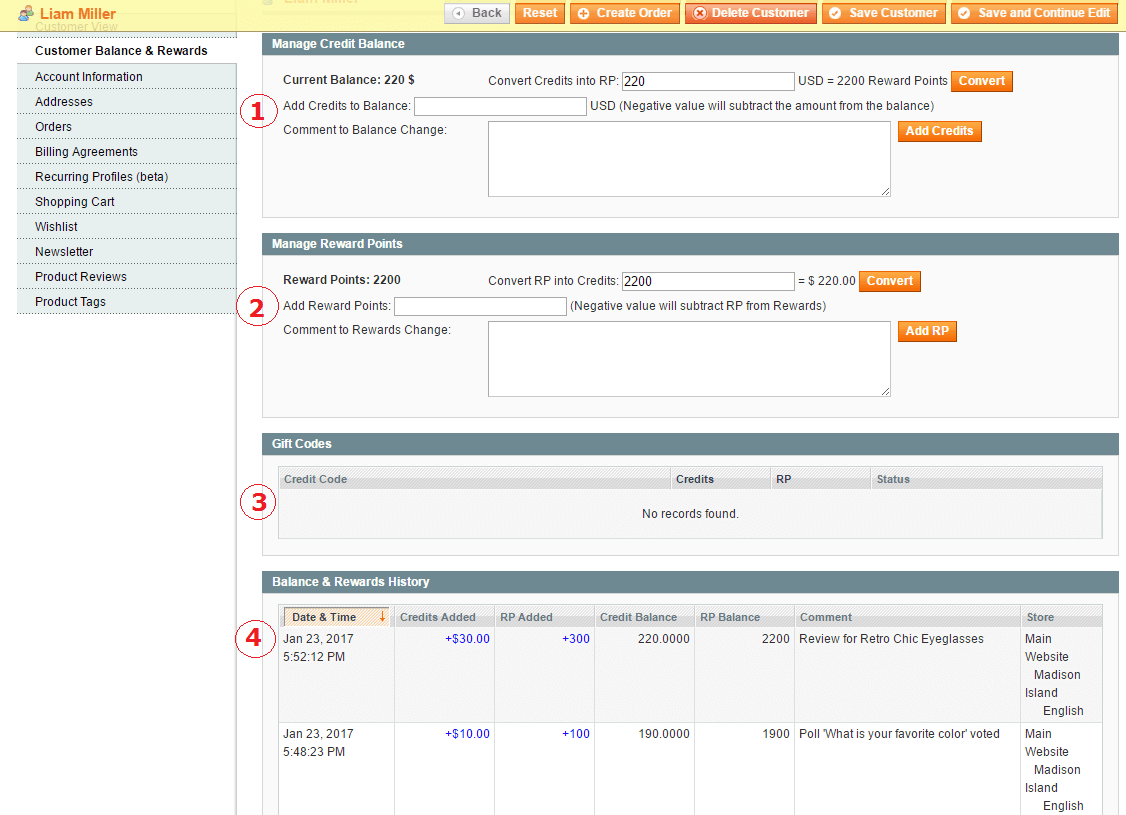 Customers can gift points or credits to friends in their accounts. There will be a special area for gifting ③ in the Dashboard. Admin can also check the whole balance and rewards history ④ in the special section.
Now let's go to the customer dashboard. Besides the information about the balance and reward points ① the customer can top them up ②. When the link is clicked, a special form appears.  The customer enters the amount to add it to the balance, enters the required fields and presses the "Top Up" button.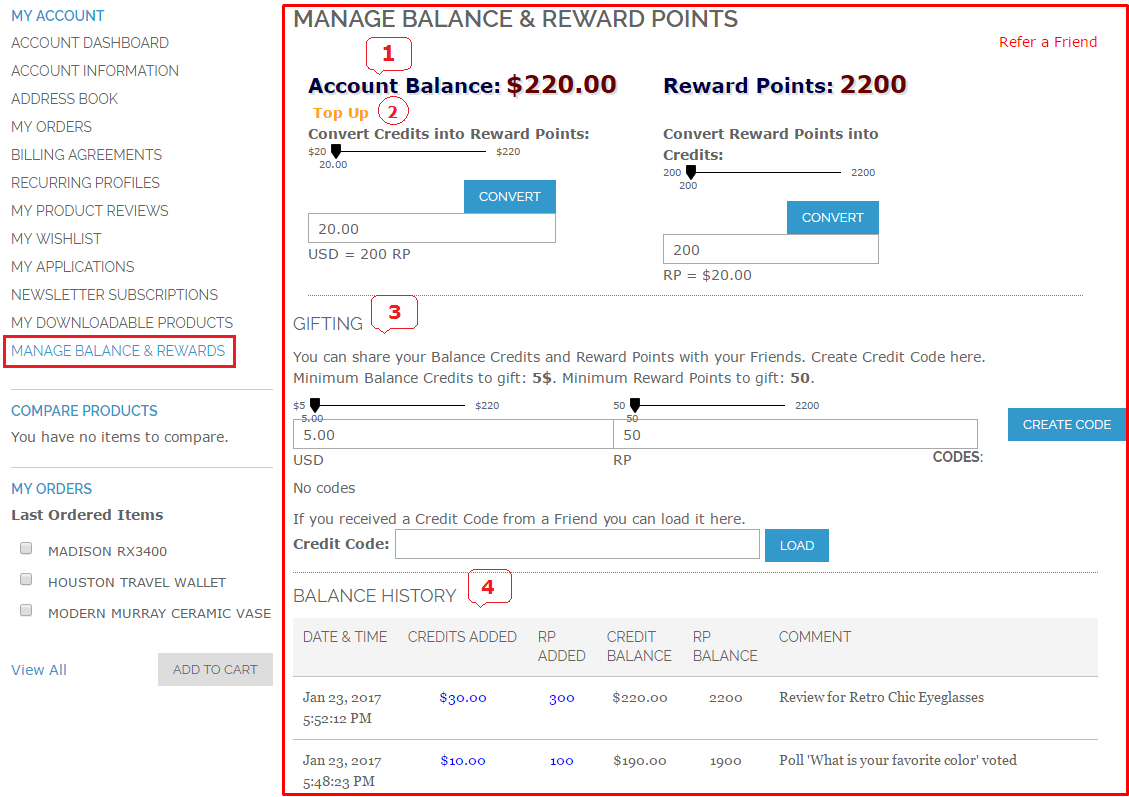 The customer can also set the number of points and credits to be gifted for friends ③ using the sliders. After "Create Code" is clicked, a message appears that the code has been created. The customer may check the history in section "Balance History" ④.
The extension allows to apply different reward rules and promotions. Reward rules offer several rule types that help customers to achieve points or credits. Some of them include customer registration, reviews, signing up for newsletter.
Reward promotions allow to set conditions that should be fulfilled in order to receive a reward.
You can find the reward promotion in the picture below.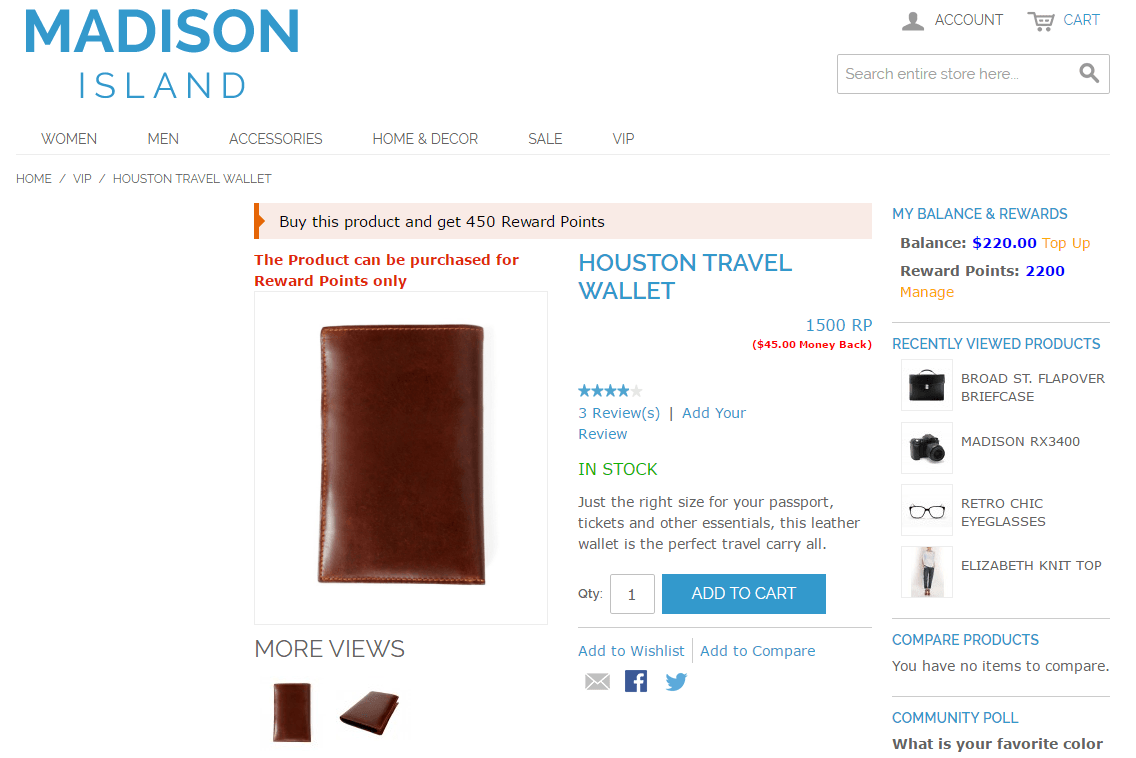 Using the module you are able to set special rules for selected products individually. The customer will also see how much they can save while purchasing the product.
After the product is added to cart, the customer can use either points or credits. Let say, you have 1200 reward points or $246.00 from the credit, and your product costs 1500 RP. As you proceed to checkout, you will totally spend 1200 RP, $246.00 from the credit, and $16.00 as a regular payment.
You want to attract more customers to your store, you need to stimulate them to visit it. Set different reward rules and promotions, offer points for future purchases, enhance social activity in the store. Your customers will be able to convert points into credits, share them with friends, and earn points for website activity and big purchases. Advance your store functionality using the Customer Balance & Rewards System extension for Magento.