Video Tutorial
Managing thousands of products that require constant description updates and providing necessary information may be a challenge. A good product description does not always mean a detailed one. The inability to provide specific details for products may result to customers' complaints or further losses.
How often your customers contact you to provide them with more accurate information? How long will the battery of my new watch last? Can I receive an image file of this album artwork if I download a song? How this bike can be shipped? And people will continue asking questions due to the lack of information. It may cause consumers to abandon purchases.
The Product Questions and Answers extension for Magento 2 will save your time and allow to post specific questions to products. Customers and guests can ask questions directly on the product page. Users will help each other by answering questions, sharing experience or giving tips.
Questions and answers can be submitted by admin, customers and visitors
All customers and guests can submit questions and answers if other settings are not configured.
Set the Q&A limitations for customers and visitors
You can hide the tab with product questions and answers for visitors or make it available for both types of users. You can also limit all guests' actions such as posting questions or answers only or providing the ability to rate questions and replies.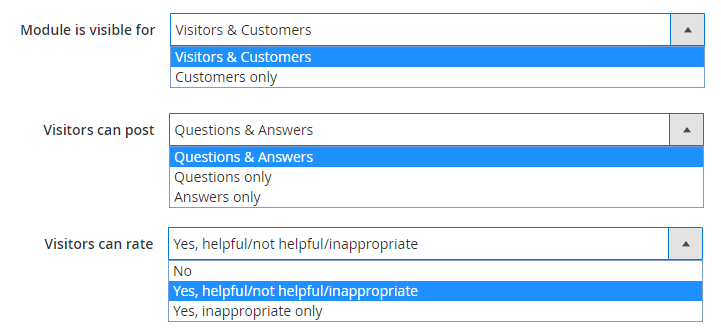 Define questions per page and customize the QA length
The extension allows to specify the number of questions per product page as well as define the length of questions and answers separately.

Moderate Q&A automatically or manually
All questions and answers can be moderated automatically or manually if you need to check each submitted answer and question. Pending replies or questions can be rejected or approved by admin.
You can enable the manual moderation for both customers and visitors or set up the auto approval for customers only or for customers and guests relatively.

Manage questions per certain store view
Running a multiple store view and want customers to submit questions in their own languages? The extension allows to specify the general settings per store view. You can also choose either to assign new questions to all store views or not. After a new question is submitted in the Swedish store view other customers referred to the French or German store views won't see it.
Manage all questions and answers in backend
Editing questions
The extension allows to add and manage all questions and answers from the backend. There are two different sections available for questions and answers separately. You can edit the content of the submitted question, change its status and visibility, track the ratings, date and product. All posted questions are stored in the log allowing to edit information or change the statuses if the manual moderation is enabled.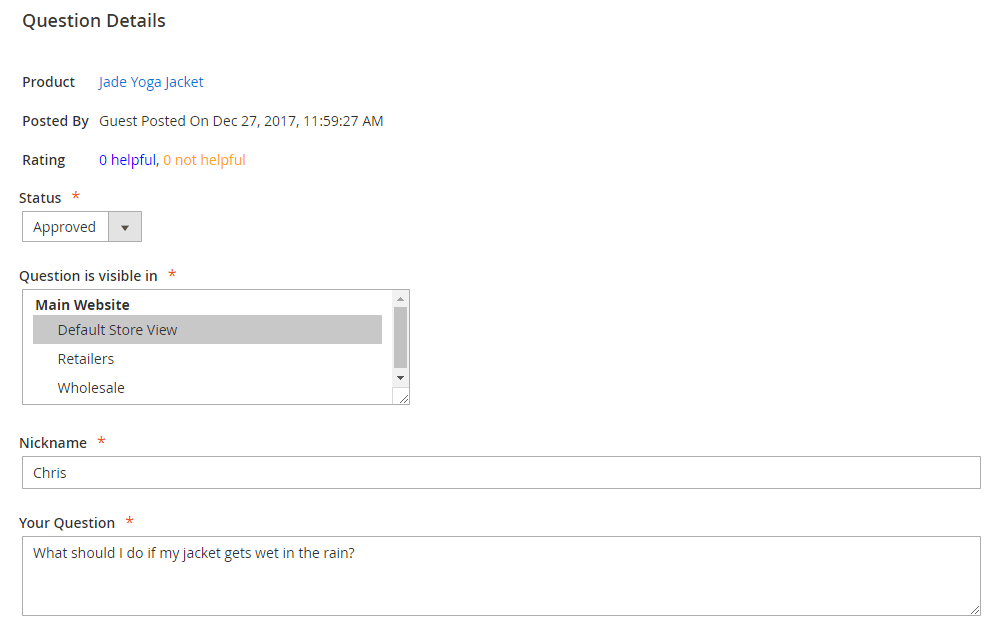 Editing answers
All answers are stored in the log. After you open the answer for editing you can track and change the submitted answers or add a new one. You can also insert videos, pictures, links and more using the HTML tags available for admin only.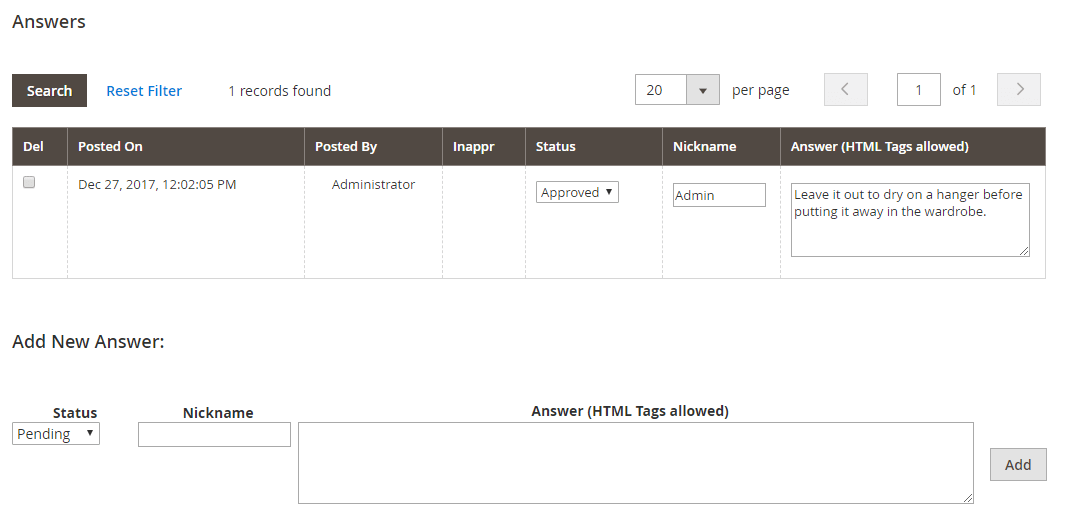 Manage questions and answers per product
If the product has submitted questions you can manage them directly in the product's settings. A separate tab "Questions and Answers" is available. You can add your own questions or edit posted ones. After the question is opened for editing you will be redirected to the questions and answers' editing page.

Manage all questions and answers on Dashboard
After your customer submitted a question or answer two sections "My Questions" and "My Answers" will appear in a separate tab on the Dashboard. The customer can track the posted questions and answers for certain products. To open Q&A for more details the "View Details" link is available.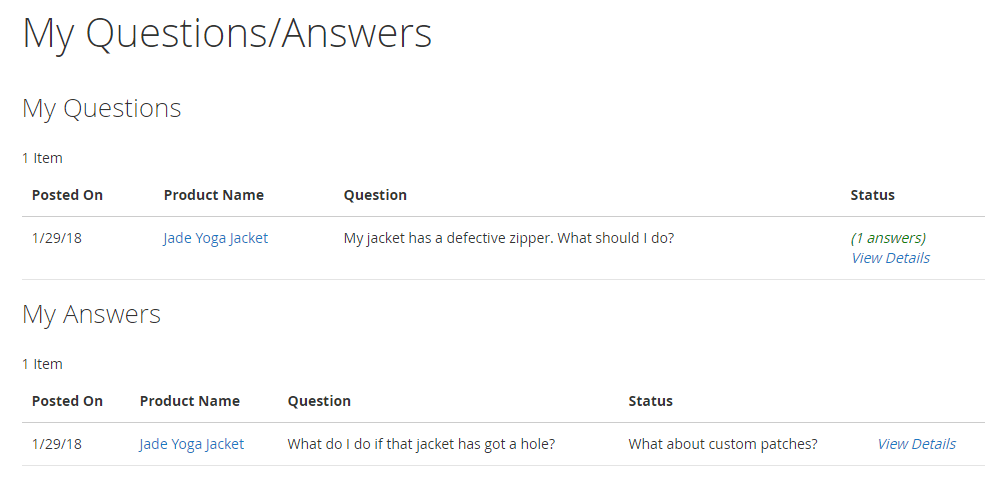 Built in the "QA" tab, advanced search, ratings, sorting by relevance
The "Product Q/A" tab is built in all product pages after the extension is enabled. The tab displays the number of questions submitted for the product. You can also see how many questions and answers are posted for the product above the price.
You can search for necessary questions or answers entering required text in the search field. If you need to sort questions choose one of the sorting options, for example questions with the most helpful answers or most recent questions, etc.
You can also see how many answers are posted per each question. The number of posted answers is available next to the question. You can also expand or collapse questions if needed.
Users can help each other by ranking questions and answers or reporting inappropriate ones. Your customers can like or dislike Q&A or report them for further moderation using the flag. If a question is marked as inappropriate one you can check it out in the backend.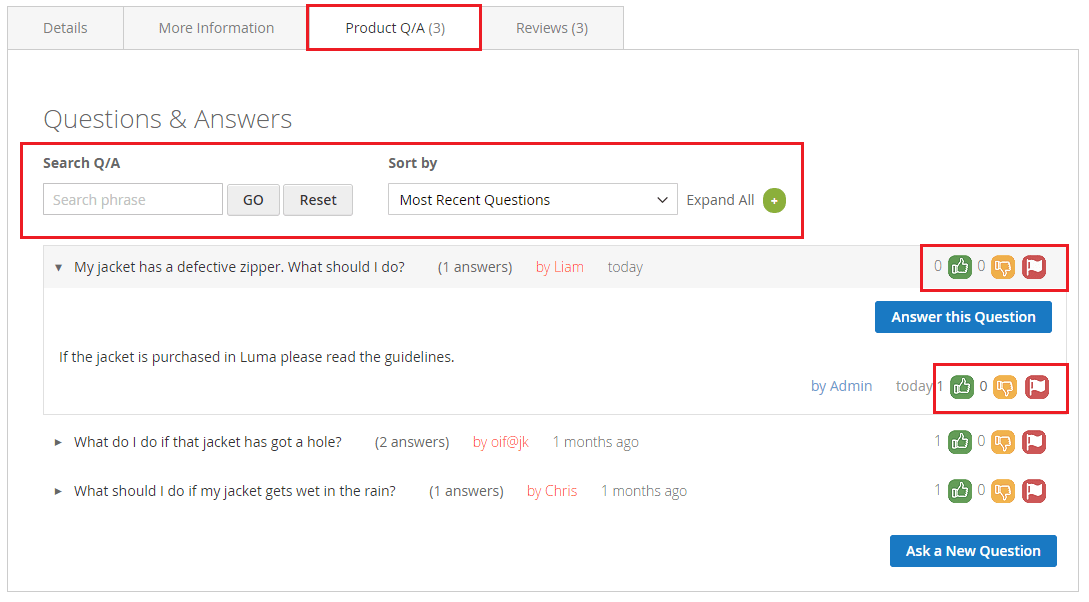 Subscribe to Q&A and customize the email template
To keep users informed about new answers email notifications are enabled. After a customer or guest subscribes to the question the notification will be sent after new answers are posted. Visitors can enter email addresses in the input box below the question and click the "Subscribe" button. A guest submitted the question can mark the notification checkbox and then enter the email.
You can also allow or disallow the question subscription for customers and visitors in the general settings.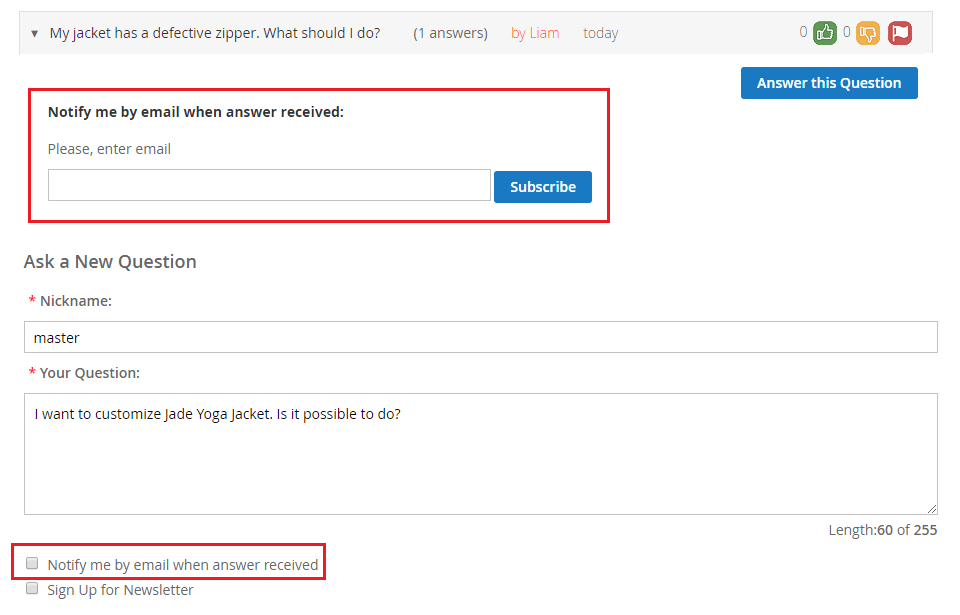 You can also specify the sender (admin sender, user sender or guest sender) the email notification will be sent from. A separate email template is related to different email sender. You can customize all default email templates available in the general settings.
The email displays the store's and product's name, the question and answer.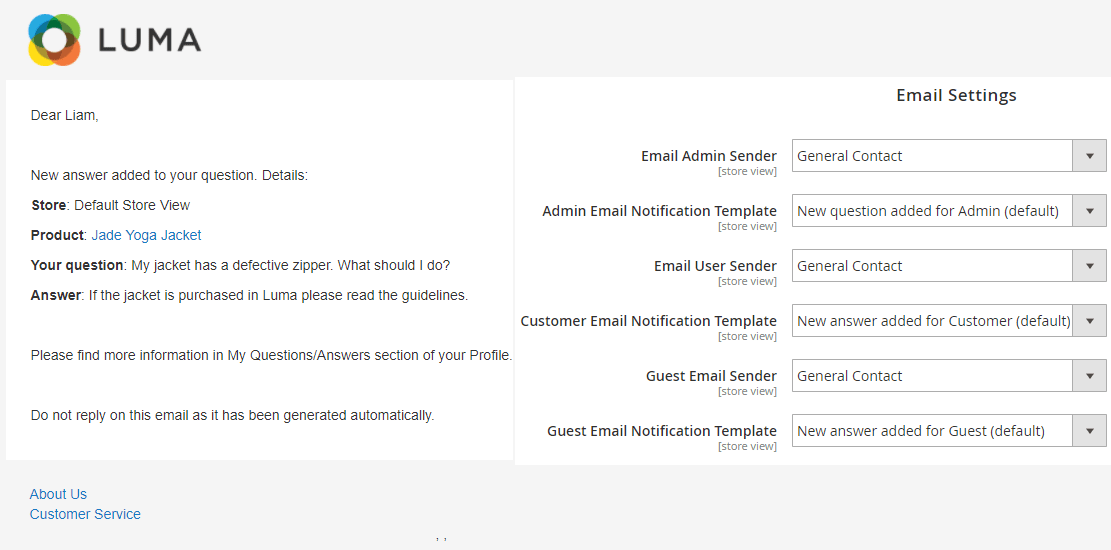 Enable Captcha to avoid spamming
The extension allows to set Captcha for guests to avoid spam bots. Just enable Captcha in your store and make the extension visible for visitors and customers. Now the Captcha image will be available for all visitors before submitting questions or answers.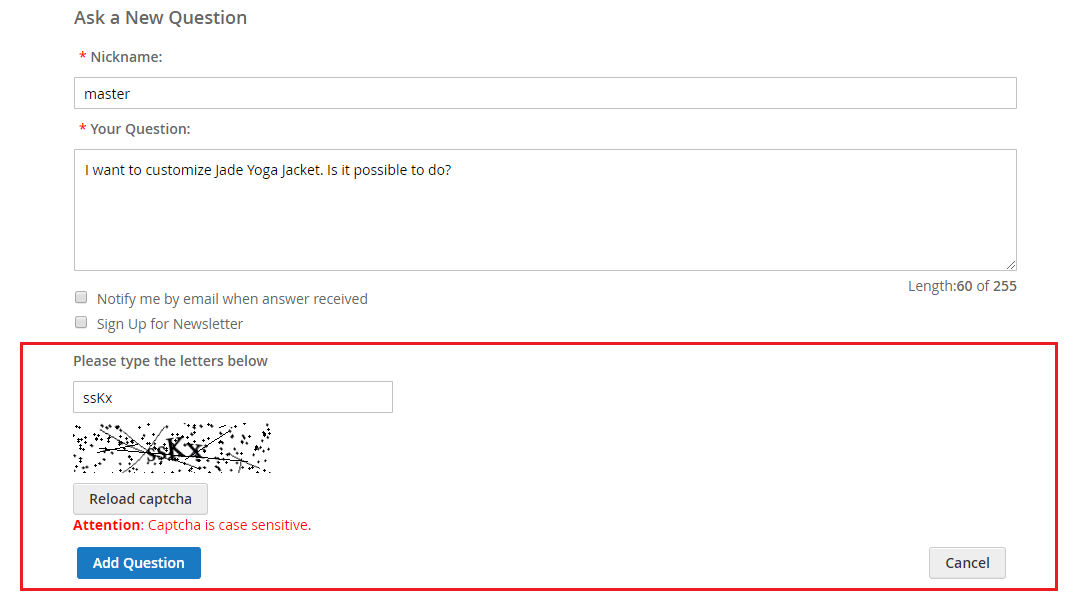 The Questions and Answers extension for Magento 2 allows to submit questions and answers visible globally or per store view. Let customers share their opinions, subscribe to questions or rate other Q&A. Thus users will make a quick purchase decision.
Admin gets the full control over all questions and answers. You can either set the automatic approval or approve manually. Edit questions and replies, delete, set status, add pictures, videos to answers or create your own questions and answers. If you want to limit the access to Product Q/A for guests the general settings will let you do so.
The Questions & Answers extension for Magento 2 helps to create a unique approach to your customers, dispel their doubts and raise consistent experience of using your store across all channels.