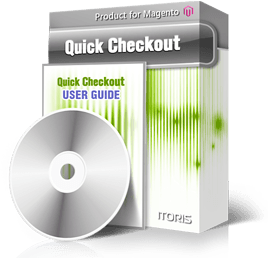 Enable the one page checkout for your customers using the Quick Checkout module. All information needed for checkout can be filled in on the same page without steps and reloads. The page is divided into blocks: the product list to be ordered, the billing address, shipping address, shipping mehods, and payment methods. Customer can checkout as guest or create an account directly on checkout. If customer has an account already they can log in directly on the same page.
Customer can verify the products' details, custom options, prices on checkout, add or subtract quantities to products. Fully responsive layout - great for mobile and desktop themes.
Once billing/shipping address changed the module loads shipping and payment methods via AJAX. Customer selects the carrier and fills in the payment details, then clicks "Place Order".
If customer has a coupon they can be applied on the same page. To prevent frauds you can enable Captcha on guest checkout. You can also enable Terms and Conditions that will appear in a popup before placing the order.
Features:
All order information can be filled in on the same page, no steps or reloads
Guest can register directly on checkout
Customer can log in directly on checkout
Guest checkout can be protected using Captcha
Coupons can be applied
Shipping and payment methods are reloaded for any address change
Terms and Conditions functionality available
Detailed order information available - custom options, prices and totals
The ability to change product quantities directly on checkout
AJAX-driven one-page checkout
Responsive checkout

(NEW)
Tutorials and Help
View the Quick Checkout DEMO. (add several products to shopping cart and proceed to checkout)
Video Presentation:
Documentation:
Screenshots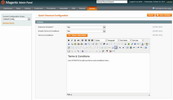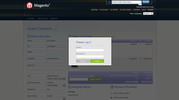 Reviews
Customer Reviews
No reviews yet
Questions & Answers
Questions & Answers
No questions yet
Change Log
10 REASONS TO CHOOSE

Risk-Free Investment

No risk at all. 60-day money back guarantee.

Simple Licensing

One license per one Magento® installation. No store, website, or domain limitation. No monthly or hidden fees.

Free Updates

Get six months of free updates! Simply download the latest version of your favorite extension from our website when you need it.

Free Installation Service

Contact Us and we will help you install our extensions absolutely for FREE.

Full Open Source

No obfuscation, no encryption. Only Full Open Source extensions. Ideal for customizations.

Following Magento® Standards

All our extensions are written following Magento® code standards.

Professionally Tested Modules

We do our best to keep quality of our extensions: performance, functional, and cross-browser testing.

Comprehensive Documentation

Detailed documentation for all extensions is available online and in PDF. Forum and FAQs.

Outstanding Support

Free and friendly EST time support. Help, tips & tricks, and even small customizations will be provided.

Long Term Strategy

8+ years in eCommerce. We grow to provide you even better services and extensions, and are always open to customers' suggestions.