The extension offers an easy way to combine simple products with custom options and configurable products within a grouped product. You can create an unlimited number of promotion rules, set their time range, and choose customer groups the rules will be active for. Display promotion blocks with discounts on product pages, CMS pages or static blocks, so your customers can see the promo sets when they browse your store.
Create inseparable grouped promo sets with various discount rules
Promotional offers are used to motivate consumers to get products. The extension provides you an easy way to sell more products in one grouped set and apply different discount rules. All the rules are based on calculation methods: manual discounts for each item, percentage and fixed discounts for the whole set, and fixed prices for the entire promo set. All the sets are inseparable from fixed quantities. Create an unlimited number of promo sets for each grouped product and make it a regular part of doing successful business.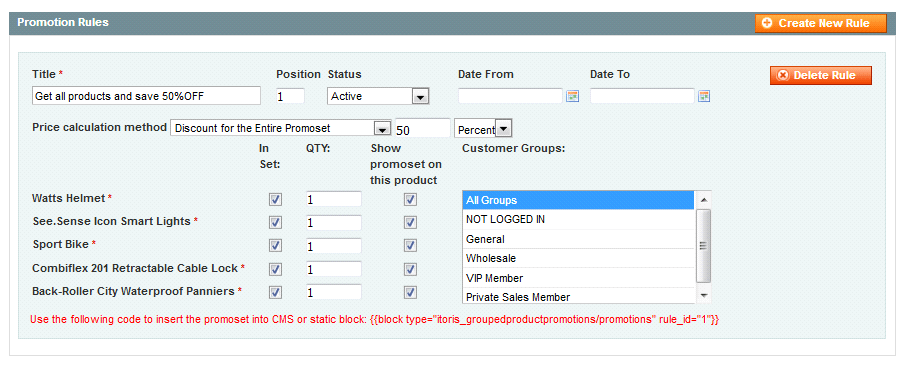 Limit discount rules in time and customer groups
Do you need to sell more products at discount prices during Black Friday or Christmas? Set the time limitations for each promo set and define when the promotion starts and ends. Let's imagine you don't want to show the promo sets to the offline users. Set the limitations for each customer group for the promo set.
Add special promotions to product pages and shopping cart
All the created promo sets will be visible on product pages and shopping cart if other settings are not specified. You can also hide the promo sets for particular products or insert a particular associated item into the promo set.

Show promo sets on CMS pages or static blocks
When the customers visit your online store, they see the Homepage. Now you can easily add promotion blocks anywhere on your website including Homepage, Contact Us page, Promotion page or any other CMS pages or static blocks.
Group configurable or simple products with custom options within a promo set
Get a significant benefit using the extension and let your customers directly configure products with custom options for the promo set. Once the user chooses a paid option, the final price with the applied discount will be changed.