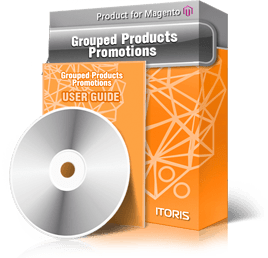 When you want your customers to purchase your products in special sets and combinations - this can be easily achieved with the Grouped Product Promotions module.
The module provides an easy way to create discounts for certain combinations of simple or configurable products within a grouped product. You can create a promoset with custom options and configure them directly in the promoset.
For each discount rule you can select which associated products to be combined to get the discount, set its time range (or make it permanent), select all or some customer groups the discount will be available to. A grouped product can have several promotion rules for different combinations of simple products, time range and/or customer groups.
Promotions' block with discounts will be displayed on products' pages so that your customers see it when they browse your store and are motivated to purchase the products in combinations. They will see it in the shopping cart as well together with the applied discounts.
Promotion block will be displayed on the pages of all products that are included in the rule (both configurable and simple). Promoset can be inserted into a CMS page or static block using a widget.
Features:
Visual and easy way to create discount rules for grouped products
Promosets are inseparable with fixed quantities
Each grouped product to have as many rules as you wish
Rules to be limited in time or permanent, available for all or some customer groups
Special promotion block to be added on product pages - your customers will see discounts and be motivated to combine products
Promotion block to be shown in shopping cart as well
Promoset can be shown in CMS or static block

(NEW)

Ability to group configurable or simple products with custom options within promoset. The options can be selected by customer directly in promoset

(NEW)
See also: Bundle Product Promotions
10 REASONS TO CHOOSE

Risk-Free Investment

No risk at all. 60-day money back guarantee.

Simple Licensing

One license per one Magento® installation. No store, website, or domain limitation. No monthly or hidden fees.

Free Lifetime Updates

Never pay for updates! Simply download the latest version of your favorite extension from our website when you need it.

Free Installation Service

Contact Us and we will help you install our extensions absolutely for FREE.

Full Open Source

No obfuscation, no encryption. Only Full Open Source extensions. Ideal for customizations.

Following Magento® Standards

All our extensions are written following Magento® code standards.

Professionally Tested Modules

We do our best to keep quality of our extensions: performance, functional, and cross-browser testing.

Comprehensive Documentation

Detailed documentation for all extensions is available online and in PDF. Forum and FAQs.

Outstanding Support

Free and friendly EST time support. Help, tips & tricks, and even small customizations will be provided.

Long Term Strategy

8+ years in eCommerce. We grow to provide you even better services and extensions, and are always open to customers' suggestions.