BLOG
Magento Extensions
Written by ITORIS Team, 2017-01-05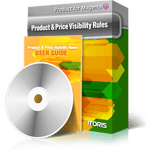 How do store owners enhance brand's awareness involving customers into store activity? There are a lot of ways to do that. One of them is hiding prices. For example, you want customers to log in before showing product prices. Thus registration in your store will be required. Or you have unique products for VIP clients, and don't want wholesalers to see these prices. The Product and Price Visibility Rules module for Magento will help to achieve it.
Imagine that you sell ski gear along with the most expensive skis for freeriding for the "Private Sales Member" customer group. You can leave skis visible for all users but only private members will see the prices. The extension is a perfect tool that allows to manage not only prices, but hide separate products or even entire categories.
Read more...
Magento Extensions
Written by ITORIS Team, 2016-12-23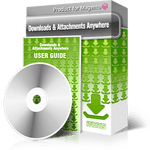 Let's imagine the following situation. You are running a furniture or a tool online store in Magento and want your customers to be provided with comprehensive information such as "how to use" tips, product manuals, instructions, downloadable images, or symbolic links. Or you need to attach files to CMS pages or static blocks. Now you are able to develop and extend your own unique content using the Downloads & Attachments Anywhere extension for Magento.
You can organize important files into categories and publish them anywhere on your site. Do you need to attach "License Agreement" to the "Private Policy" page? Or upload special promotion for a specific customer group? The module is a good tool to meet all your requirements.
Read more...
Magento 2 Extensions
Written by ITORIS Team, 2016-11-15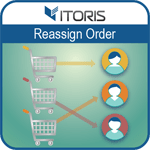 While managing stores in Magento have you ever experienced situations when your customers ask to assign guest orders to existing customers' accounts? Or combine all orders from different accounts into a single one? By default Magento won't allow to do this. But the ITORIS team will help to predict customers' wishes and provide more possibilities for you and your clients.
Using the Reassign Order extension for Magento 2 you can reassign orders between customers' accounts manually, assign guest orders to the customer account with the same email automatically, and even more.
Read more...
Magento 2 Extensions
Written by ITORIS Team, 2016-11-14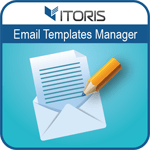 Emails are essential as they create fast and reliable form of communication between you and your customers. Emails help to keep in touch with customers about different events, day-to-day promotions, new discounts and more! But to edit a minor part in email you have to create a new transactional one. Now let's imagine that you need to edit texts in dozens of emails and for separate store views. It's kind of time-consuming, isn't it? The ITORIS team offers an absolutely new approach of editing email templates in Magento® 2.
We've developed the Email Templates Manager extension for Magento® 2 which will provide a powerful endorsement of your brand. To edit some details in emails, choose a system email on the list and select a necessary store view. With these few clicks you can easily edit and send any email to your customers. What is more, you can attach documents, invoices, other files to emails, add CC and BCC, and etc. within Email Templates Manager.
Read more...
Videos
Written by ITORIS Team, 2016-11-04
Imagine the situation when your customer contacts you and asks to combine all his orders into a single one. It may be challenging as by default Magento won't allow to do this.
Using the extension you can assign orders that are placed as guests ones to existing customers' accounts from the order view. Now you are able to reassign multiple orders in bulk to a customer as a mass-action. If a customer uses the same email while placing a guest's order, you can assign new orders automatically on checkout. After order reassignment customers will get the notification by email.
Read more...
Magento 2 Extensions
Written by ITORIS Team, 2016-10-31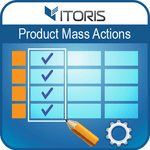 You may probably agree that managing huge ecommerce web-sites can be difficult especially if you have a lot of products to update. Thus editing your products will take some time applying routine time-consuming actions to multiple products. ITORIS has found a solution. Our team is glad to present the extension that saves your time.
The Product Mass Actions extension for Magento 2 is a perfect tool to simplify updating process especially when you have plenty of similar products. Using the extension you can update product attributes in bulk, add or subtract a value from the price attributes. Now you are able to assign selected products to multiple categories, replace or copy custom options from a product to several ones, etc. You no longer need to spend time while updating products manually. Read more about the extension in the User Guide.
Read more...
Videos
Written by ITORIS Team, 2016-10-31
The Grouped Product Options extension for Magento 2 allows to enable custom options on the grouped products. By defaults Magento 2 allows to group simple products without options only. But now using the extension you are able to group simple or virtual products with options, configurable and bundle products.
Also your customers will be able to configure custom options of the associated products directly in the grouped product. What is more you can convert the grouped products into a checklist.
Read more...
Videos
Written by ITORIS Team, 2016-10-27
Wondering how to edit email templates easily in Magento 2? The Email Templates Manager extension provides a new approach to edit email templates in several steps. Now you no longer need to create separate transactional emails for different store views or events. The extension allows to choose a system email, select the necessary store view and edit email templates that you need.
Moreover, now you can edit templates using the convenient WISYWIG and add styles, images, change texts for each email. The extension allows to attach files, add CC and BCC to emails, and more.
Read more...
Videos
Written by ITORIS Team, 2016-10-25
Now you can edit multiple product attributes just with a few clicks! The Product Mass Actions extension provides ability to apply actions, which require much effort, to multiple products. Thus the extension helps to save your time processing a number of products in a short period.
Read more...
Videos
Written by ITORIS Team, 2016-10-21
Dynamic Product Options extension is the ultimate solution to manage products' custom options in Magento2.
Now you can configure options for different store views separately and translate options or change prices for your stores. The extension provides additional tools for advanced use. Moreover, you can add your custom CSS styles and JavaScript associated with the options.
Read more...
<< Start < Prev 1 2 3 4

5

6 7 8 9 10 Next > End >>


Page 5 of 10