Video Tutorial
Add the special price countdown to your website and remind customers about a future sale season or stimulate to make spontaneous purchases at lower prices. The Special Price Countdown extension introduces the easiest way to embed the special price end and start countdown to your product and category pages automatically.
The End and Start Countdown on the Product View and Category Pages
After you specify the special price date period for a product, the extension displays the end countdown timer if the expiry day is coming to an end. Or you can let customers know about special offers that will soon be available. Place the timer counting days, hours, minutes and seconds on product detail pages, Homepage or catalog pages. Keep customers' attention anywhere on your website.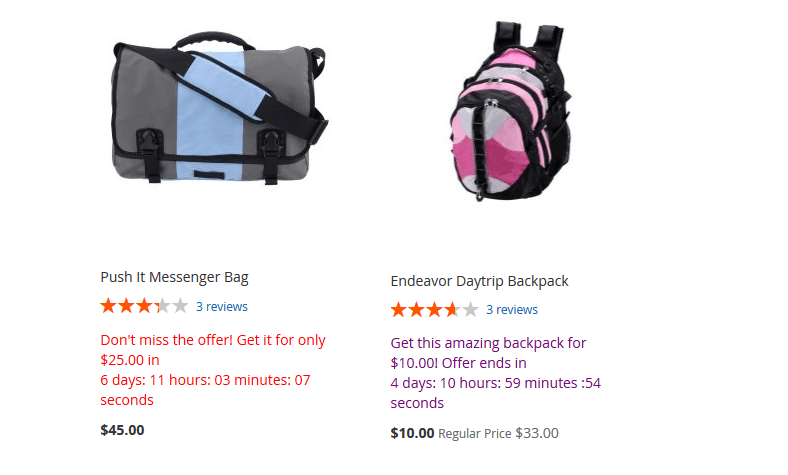 Various Formats and Customizable Templates
Customize four templates available for the start and end countdown or add different timer formats with custom texts for product and category pages separately. Add texts, change colors, use the HTML tags, insert special price start and end date, initial and special prices. You are able to edit templates for multiple store. Just choose a store view, translate the template and save the changes.

Manage Countdown Visibility
The extension allows to control the end and start countdown visibility on the product view and category pages. Hide the countdown for specified products to make the timer available on Homepage or catalog.

Want to notify customers two days before the special price start? Or need to remind about the special price expiry day? Define the days before displaying the countdown for product and category pages.

The Special Price Countdown extension for Magento 2 is aimed to add the countdown according to the set special price date, insert the countdown block into product and category pages, customize the end and start countdown in your own way, specify the timer's visibility and bring the best offers to your customers.