Video Tutorial
The Pending Registration extension for Magento 2 allows to restrict the users' access to your Magento online store until customers' accounts are moderated.
Looking for ways to prevent bot attacks? Want to make your store private and share the access manually? The extension enables the manual account moderation allowing to accept, deny or apply the pending statuses to all users.
Manual Approval of Customer Accounts
You are able to activate the moderation for new users and registered customers. If customers try to login the "Your account requires moderation" notification will appear. Customers won't be able to go to the customer dashboard until their accounts are approved manually.
If the pending status is set, newly created customer accounts will be also moderated. If admin decides to deny access to the registered account, users will be notified by following message "Your registration is declined".

Automatic Approval of Customer Accounts
Choose customer groups to validate manually and let the other groups to create accounts without being moderated.
Also if there is no need to moderate accounts manually you can accept or set the "Pending" status for all customers registered in your store. Just choose the status in the general settings and apply to all users.

Easy Management of Accounts' Statuses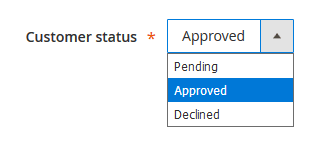 All accounts' statuses can be managed directly on the customers' grid or customers' settings. The separate section allows to apply one of three customer's statuses manually. Thus admin can review the customer's details and approves or rejects the access to the account.
Email Notifications
When admin approves, declines or applies the "Pending" status, the emails will be sent to notify customers about the accounts' statuses. Once the account status changed the customer receives another email with an update. You can also customize the email templates via transactional emails as needed.
The Product Tabs extension for Magento 2 helps to create a private store moderating users' account to prevent your website from unwanted visitors and members.