Video Tutorial
Some of your products are out of stock and you want to remind customers about updating stock items? Or a visitor wants to get a product that currently is out of stock? What can be done to stimulate users to wait for out of stock products and not to lose your potential customers?
The Out of Stock Notification extension for Magento 2 allows to track the most required products getting the "Out of Stock" status. Let your customers subscribe to out of stock products and manage the subscriptions on frontend.
Notify about Back in Stock Products
Give customers ability to get email notifications if their required products are out of stock. The extension sends the automated email alerts if guests or registered customers have the out of stock subscription and those products are back in stock. The email subscription box is shown on all product pages allowing users to enter emails in an easy way.

Subscription Management from Backend
The subscriptions can be managed in the customer settings in backend. You are able to filter necessary information, track the product stock status and unsubscribe users manually.

Subscription Management on Frontend
Your registered customers are able to track and unsubscribe from the notifications on the customer dashboard. The separate tab "My Out of Stock Alerts" provides the subscriptions' log with the detailed information about the products, the subscription date, the stock statuses and the unsubscribe link.

Define Email Alerts' Senders and Customize Email Templates
You are able to send the email alerts using the different senders such as owner, customer support, sales, etc. All email notifications are set up to use the default "Out of Stock Alert" template. You are able to customize the template according to your needs.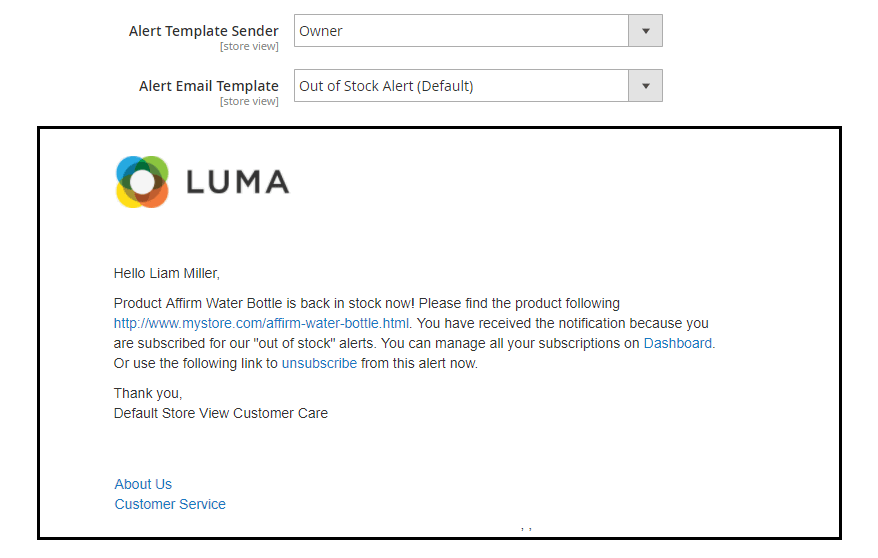 Track what out-of-stock products are highly demanded and regulate prices according to the requests. Stimulate subscribed customers and guests to visit your website by sending the email alerts if the products get the "In Stock" status again.
The Out of Stock Notification extension for Magento 2 notifies subscribed users about back in stock products and allow to tweak your product lines and get the priority to gain and retain customers.