Video Tutorial
Want to notify customers about upcoming special offers on your homepage? Or need to show more deals on cart before customers go to checkout? The Daily Deals extension for Magento 2 turns products with special prices and catalog price rules into daily deals.
Now you can highlight special offers enabling the countdown or provide the separate page with deals to encourage customers to get products at better prices. The extension allows to place daily deals literally everywhere on your website: on a separate block on all category pages, product pages, shopping cart and homepage.  Create daily deals for simple products with custom options, downloadable, virtual and configurable products.
Easy Daily Deals Management from Backend
Now you can easily create special offers not from the product settings but the separate list with daily deals. Select one product you need to apply a special offer to, specify the start and end date and set the special price. You can easily track all existing daily deals directly on the grid. Need to show different special offers for different store views? Just define a necessary store view and create a new deal.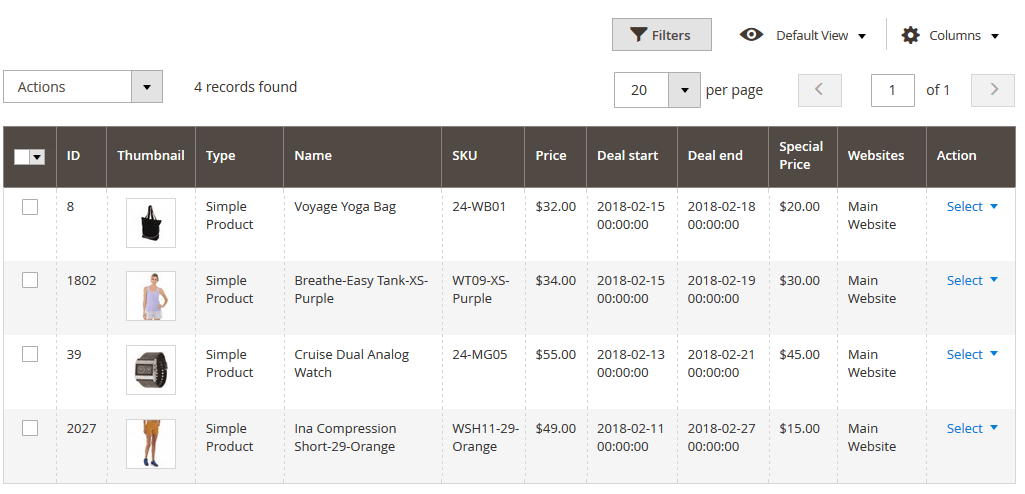 Place Daily Deals Everywhere on your Website
The extension provides the full visibility management and allows to add the daily deals block on all category pages and search results. Now your customers will see a good special offer before searching for products. The extension chooses a daily deal randomly and displays on top of the left column of pages. You can also show or hide the block specifying it in the general settings.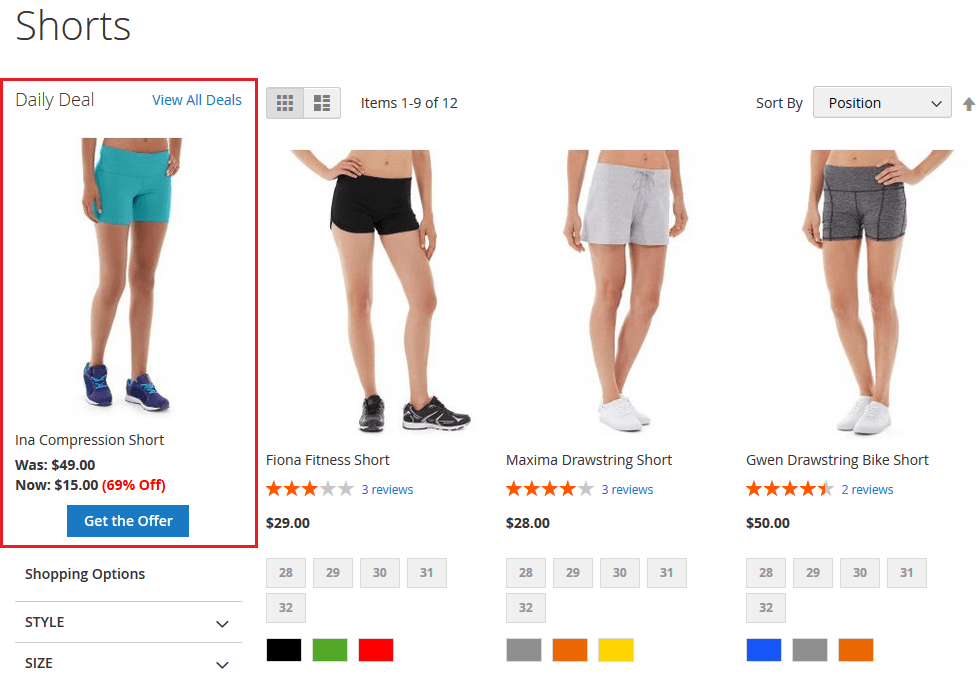 Now you can enable the daily deals blocks on each product page as well as define the number of deals shown on the product views. If special prices or catalog price rules have the end date the countdown will also be available. Thus users will see upcoming or active deals that will stimulate to make the final purchase decision.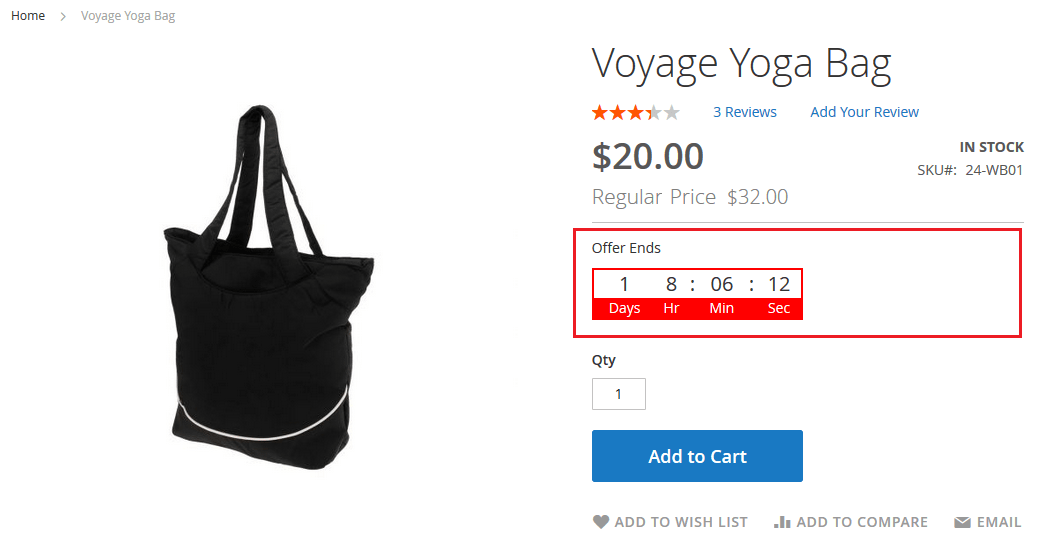 Display deals below the shopping cart and suggest even better prices before customers can proceed to checkout. The extension allows to hide or show daily deals and set the maximum numbers of products in the block.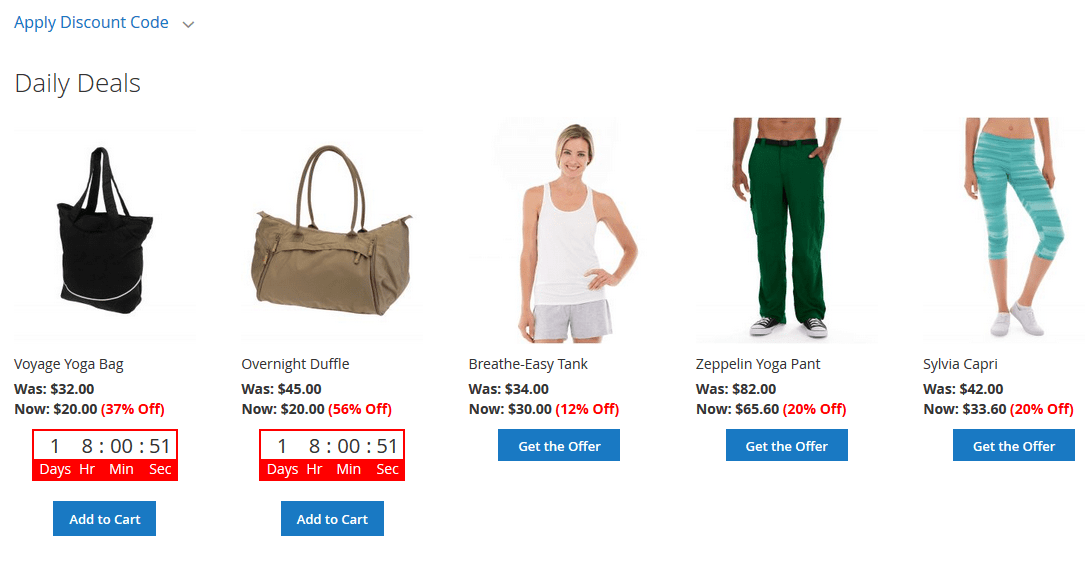 Want to show customers special offers with a countdown on Homepage directly? The Daily Deals extension provides the built-in widget that you can insert into the Home CMS page or static block.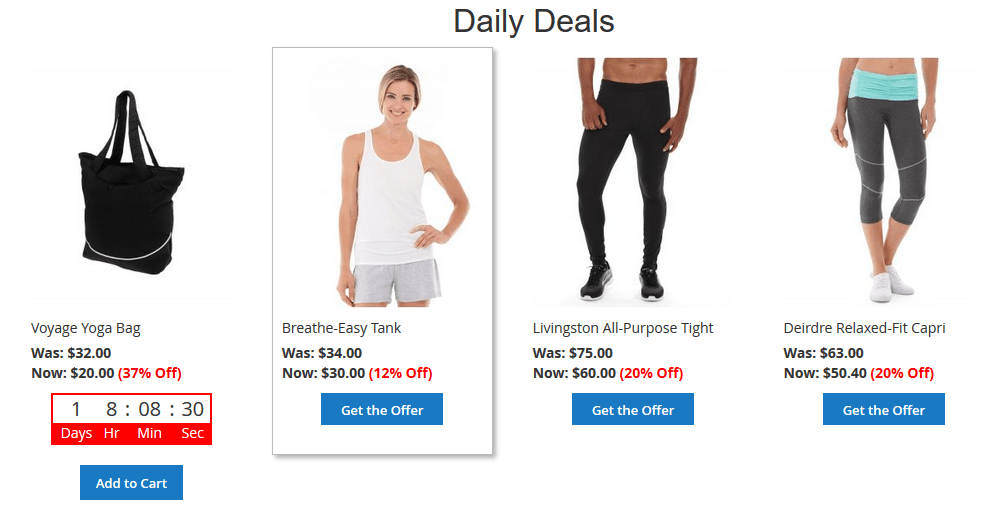 All Deals List on Frontend
Now your customers can see all deals on a separate page that will definitely help them to find the right products at better prices. You can enable or disable the page from backend as well. The extension also customizes the URL for the page with all deals.