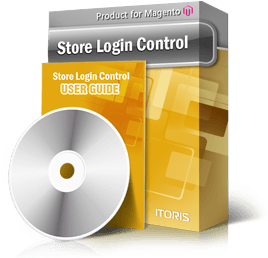 Hide the entire store behind the login form using the Store Login Access extension. Customers will not be able to see the catalog, prices, place orders until logged in.
With several stores within one Magento installation, each providing its own privileges and serving different types of customers, it is crucial to limit access of customers to stores. For example you have a retail and a wholesale store, and want to disallow retail customers' access the wholesale store. Or you want your customers to see the website only when they are logged in. The Store Login Access extension for Magento will work great in this case. With this extension you will be able to easily manage your customers' access.
Store Login Control provides the following abilities (per store, so you can choose which of your stores should have it):
Stores' Login you can set that customers who have created account on store A can login with this account on store B, but cannot on store C
Access to stores only logged in users can view the store(s). Not logged in customers will see only the login form
Registration you can allow/disallow registration on selected stores, registration form will not be available then
These features can be used separately or combined, thus providing full management over your Magento stores.
In admin area you will set the interconnections between stores, defining customers' login and registration settings. From the front-end, independently on whether your customers switch between stores, login or create a new account during checkout, they will have only the gained access and privileges.
Apart from bulk management of the customers, you can manage access individually inside customer's profile in admin area as well.
Store Login also allows setting where logged in customers should be redirected after login - to dashboards of the current or native store, to the main page of the current or native stores, or to a custom URL.
Features:
Per-store management
Access to selected stores store only for logged-in customers
Allow/disallow new accounts' creation on selected stores
Access to stores depending on which store account was created
Redirect after login (to dashboards, main page or a custom URL)
Bulk and individual login access control of customers
In combination with other modules - pending registration for selected stores, custom registration form(s), registration/login forms in modal windows
There is ability to combine several modules thus creating an advanced login management system that meets your needs perfectly:
Pending  Registration - for example, you have a retail and a wholesale store.  Your retail customers register in a regular way and have access to the  retail store only. Your wholesale customers register, their accounts are  pending. You validate wholesale accounts manually, and only after the  validation the wholesalers are able to login and view wholesale store.
Registration  Fields Manager - You can create an expanded registration form for your  wholesalers to collect all information you need, while your retailers  will have a different registration (standard or custom as well). After  the registration (pending for wholesalers if you wish) your wholesale  customers have access to all stores, while retail customers van view  retail store(s) only. The customers will have different account details  as well.
Smart  Login/Registration - this module allows displaying login/registration  forms in good-looking modal windows (DIV). Customers can login or even  register while staying on the same page - there will be no redirects and  they can continue from where they have been before login/registration.
Tutorials and Help
See the Store Login DEMO (Please use the following test login: test@test.com/111111)

This video is a good quick start:
Documentation:
Screenshots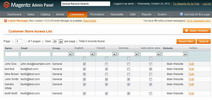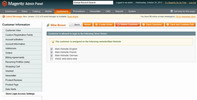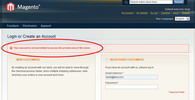 Reviews
Questions & Answers
Questions & Answers
No questions yet
Change Log
10 REASONS TO CHOOSE

Risk-Free Investment

No risk at all. 60-day money back guarantee.

Simple Licensing

One license per one Magento® installation. No store, website, or domain limitation. No monthly or hidden fees.

Free Updates

Get six months of free updates! Simply download the latest version of your favorite extension from our website when you need it.

Free Installation Service

Contact Us and we will help you install our extensions absolutely for FREE.

Full Open Source

No obfuscation, no encryption. Only Full Open Source extensions. Ideal for customizations.

Following Magento® Standards

All our extensions are written following Magento® code standards.

Professionally Tested Modules

We do our best to keep quality of our extensions: performance, functional, and cross-browser testing.

Comprehensive Documentation

Detailed documentation for all extensions is available online and in PDF. Forum and FAQs.

Outstanding Support

Free and friendly EST time support. Help, tips & tricks, and even small customizations will be provided.

Long Term Strategy

8+ years in eCommerce. We grow to provide you even better services and extensions, and are always open to customers' suggestions.