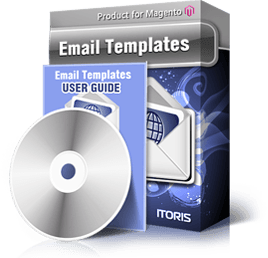 The Email Templates Manager provides a convenient visual editor to edit system emails. No need to create transactional emails for each store and link them in Magento config anymore. Typically to change texts or translate something you create a transaction email. There are a lot of system emails in Magento and if you have multiple websites this is a lot more transactional emails. Not useful, a lot of actions to change something. The Email Templates Manager simplifies the process greatly. The extension deals with system email templates directly bypassing the transactional emails.
You have the list of system email templates and the configuration scope with all your store views. Pick up a store view (or leave the default config to edit it for all store views) and a email template to edit. The WYSIWYG appears below for you to edit the email subject and body for selected template. No page reloads, everything is done using AJAX.
Natively Magento doesn't provide WYSYWYG for transactional emails. Using the Email Templates Manager you enable the rich-text editor.
Natively Magento doesn't allow to add CC and BCC to emails. Now you can set one or several emails in CC/BCC fields to receive a copy on your additional email address.
Natively Magento doesn't allow to edit the "from name" and "from email" fields for each email template. Make it possible with our extension.
Natively Magento doesn't allow to attach files to email templates. The extension allows that. If you need to attach agreements, demos, additional documents to your emails the Email Templates Manager will be of help.
In addition, the extension helps to fight the SPAM issue, when emails from your store come to Spam or Junk folder of mailbox. The issue happens because Magento doesn't add tags and to emails in HTML format. The Email Template Manager solves the issue.
Features:
Deals with system emails directly rather than transactional emails
Great usability
Ability to edit templates for certain store views or globally
WYSIWYG for email body
Ability to set CCs and BCCs addresses
Ability to edit "From Name" and "From Email" fields for each template separately
Ability to edit in HTML or Plain Text formats (and convert between formats if needed)
Ability to attach files to emails
Solves the Magento's Spam/Junk issue
Tutorials and Help
Video Presentation:
Documentation:
Screenshots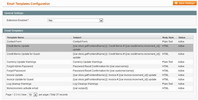 Reviews
Questions & Answers
Questions & Answers
No questions yet
Change Log
10 REASONS TO CHOOSE

Risk-Free Investment

No risk at all. 60-day money back guarantee.

Simple Licensing

One license per one Magento® installation. No store, website, or domain limitation. No monthly or hidden fees.

Free Updates

Get six months of free updates! Simply download the latest version of your favorite extension from our website when you need it.

Free Installation Service

Contact Us and we will help you install our extensions absolutely for FREE.

Full Open Source

No obfuscation, no encryption. Only Full Open Source extensions. Ideal for customizations.

Following Magento® Standards

All our extensions are written following Magento® code standards.

Professionally Tested Modules

We do our best to keep quality of our extensions: performance, functional, and cross-browser testing.

Comprehensive Documentation

Detailed documentation for all extensions is available online and in PDF. Forum and FAQs.

Outstanding Support

Free and friendly EST time support. Help, tips & tricks, and even small customizations will be provided.

Long Term Strategy

8+ years in eCommerce. We grow to provide you even better services and extensions, and are always open to customers' suggestions.