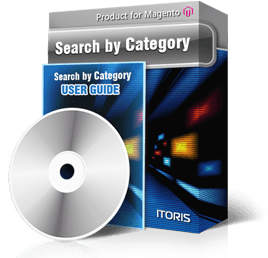 The Search by Category extension expands standard Magento search and simplifies the task of finding products for your customers. Search can be added as a slider under standard Magento search field. It will slide down when selected.
There are two variants of search - you can set it to work as a filter ('search by' functionality). Your customers will narrow parameters going deep inside categories and sub-categories. At any step they can select to display the results or continue narrowing the parameters. The functionality is close to layered navigation.
Or you can set it to be an advanced search where your customers select a category (or it is pre-selected already if they are inside the category on the website) and search area is changed immediately to show only the category's attributes. Then they enter a word or phrase – and voila! – they get the exact list of items they have been looking for.
In addition to the slider search can be inserted as a widget anywhere to your website.
Features:
Your select parameters to search by
Different parameters displayed depending on category
Two modes – search and 'search-by' filter
Two ways to add – as a slider pane or as a widget
Happy customers get what they look for!
Demo
Please see the DEMO to get an idea of how Search by Category extension works. On this demo the advanced search is added as a slider right under simple search on the top. Click to slide down.
Documentation
Screenshots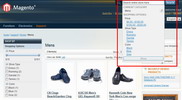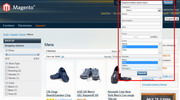 Reviews
Customer Reviews
No reviews yet
Questions & Answers
Questions & Answers
No questions yet
Change Log
10 REASONS TO CHOOSE

Risk-Free Investment

No risk at all. 60-day money back guarantee.

Simple Licensing

One license per one Magento® installation. No store, website, or domain limitation. No monthly or hidden fees.

Free Updates

Get six months of free updates! Simply download the latest version of your favorite extension from our website when you need it.

Free Installation Service

Contact Us and we will help you install our extensions absolutely for FREE.

Full Open Source

No obfuscation, no encryption. Only Full Open Source extensions. Ideal for customizations.

Following Magento® Standards

All our extensions are written following Magento® code standards.

Professionally Tested Modules

We do our best to keep quality of our extensions: performance, functional, and cross-browser testing.

Comprehensive Documentation

Detailed documentation for all extensions is available online and in PDF. Forum and FAQs.

Outstanding Support

Free and friendly EST time support. Help, tips & tricks, and even small customizations will be provided.

Long Term Strategy

8+ years in eCommerce. We grow to provide you even better services and extensions, and are always open to customers' suggestions.