Purpose
This document is a User Guide for Search by Category extension for Magento. It describes how work with the extension.

Search by Category greatly improves your store search. You can add it either under the simple search as a slider or create a search widget.
Installation
All our Magento extensions and templates are installed via IToris Installer .

Download IToris Installer and un-pack to the root of your website. It will then appear in menu System –>IToris extensions –> IToris Installer.

Open it and you will see all our Magento Extensions and Templates, both installed and available. You can install, update and un-install them with one click now.

Find Search by Category in the list of extensions and press Install button. It will ask for the license key that you will receive after the purchase. Enter the key and submit. The extension will be installed. It will be available in menu System –>IToris extensions –> Category Search.


License
Search by Category is website-dependent. By 'website' here we understand the website in Magento terms. Under one Magento installation one license key of the extension can activate all stores/storeviews. within one website. If your configuration has several Magento websites - a separate license will be required for each.

You can switch the license from one domain to another – login to IToris website using the credentials you will receive after the purchase. Go to My Downloads area, find your key there and reset it from the current website. Then use it again to activate another website.

The license also includes free life-time updates for the extension.
Settings.

Install Search by Category extension and open it in admin area (System –>IToris extensions –> Category Search). You will see Settings area:

There are 2 main settings:
Activate front-end slider
Lookup mode
Activate front-end slider.
If you select the slider to be activated – it will be added to the simple search as a slider under the search input.
Its normal (closed) state will be the following:

When clicked it slides down and looks in the following way:

If you select not to activate the slider – your simple search will not be changed. This does not block the extension, you can add advanced search as widget instead.
Lookup Mode.
Here you select how your search will function. There are two modes provided:
Search Mode
If you select search mode – you will get advanced search. Unlike in standard Magento this search will not display a mixture of products' attributes. Instead, it will display only the attributes associated with a category selected. If another category is selected – the attributes are updated.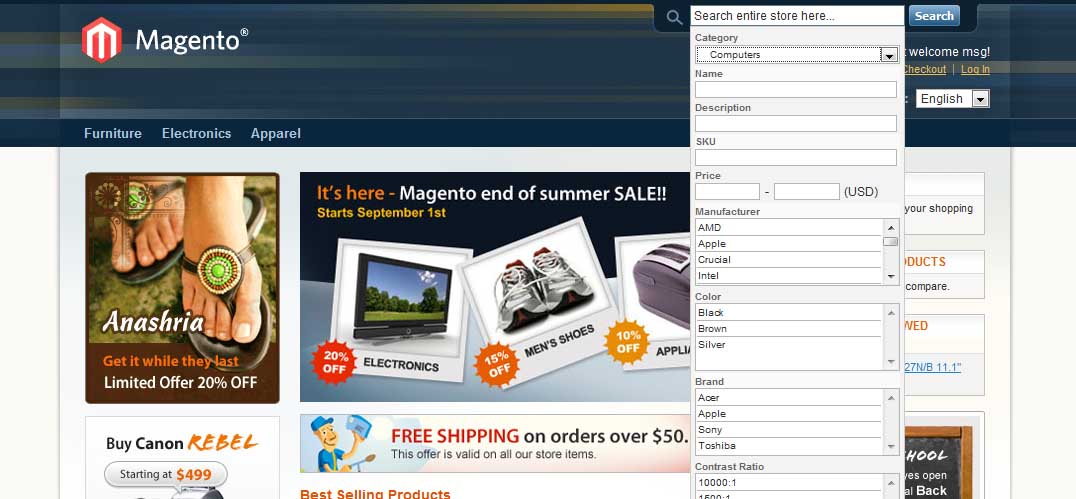 E.g. If computers category is chosen – your customers will have only the attributes you have for your computers.
Perhaps you do not need all computer attributes you have to be displayed. Search by Category extension will show only the attributes selected to be used in advanced search (standard Magento functionality – select Catalog -> Attributes -> Manage Attributes).
There is one more user-friendly feature. If your customer is in computers category and opens the search – the category and all its attributes will be pre-filled already. If your customer is on a product page – again the search category will be pre-selected and its attributes will be displayed.
Filter Mode
This mode is one more nice feature. Instead of a regular search where users enter a word to be search and narrow the parameters - Search by Category extension can work as filter.
Customers select a category (or it is pre-defined if they are in a category or on a product page).
Then by clicking attributes they narrow and define their search: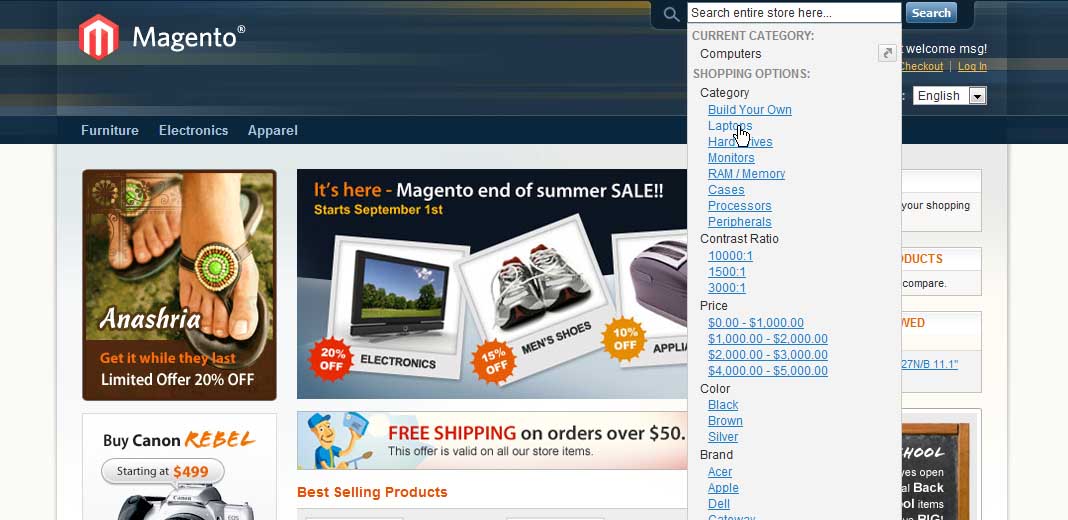 At any stage customers can press Show button to see the results or continue to narrowing the parameters.