Video Tutorial
Your customer has multiple accounts and contacts you to move all orders into the main one? Or your customer places the order using a different email address and asks to reassign order to the main account? The Reassign Order extension for Magento 2 will easily help you assign all guest orders to customer's account matched by email or move orders between accounts.
Reassign order to customer account from backend
You can assign new orders by customer's email automatically on checkout or reassign orders manually. Just choose an order you need to reassign to an existing customer and click "Assign". The customer the order has been assigned to will be notified by email.
Before reassigning you will see a summary page with the information about what order and what customer it will be assigned to. The page will also allow you to overwrite the customer name on the order and send a email notification if needed.

Reassign orders in bulk
You can also assign multiple orders to existing customers in bulk. The mass action tool provides the "Assign to Customer" action allowing to reassign orders in a few clicks.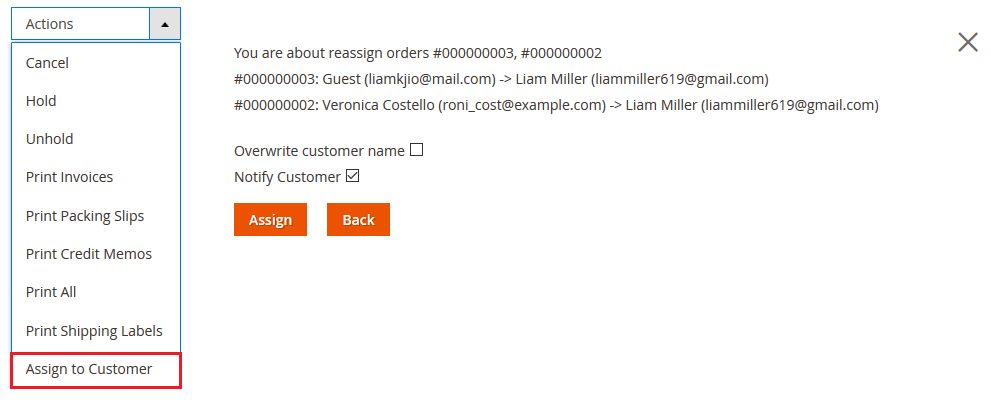 Assign new orders automatically on checkout
If an existing customer places an order as guest using the same email you can reassign orders to the main account automatically. The general settings allow to reassign guests' orders automatically on the checkout by the email match.

Detailed order history
The extension also provides the detailed reassign history in a separate section on the order view in backend. After the order has been reassigned you can find the details there. Now you can track what orders have been reassigned and what accounts have been used.

Overwrite the customer name during reassignment
You can also rewrite the customer's name on the order automatically or manually. Once the name has been changed it will be displayed in the order history.

Customize template and send email notification
Once the order has been reassigned the customer will get the notification by email. You can find the date when the order was reassigned, the customer name and the order number in the email.
You can also customize the email template and choose either to notify customers by email automatically or manually.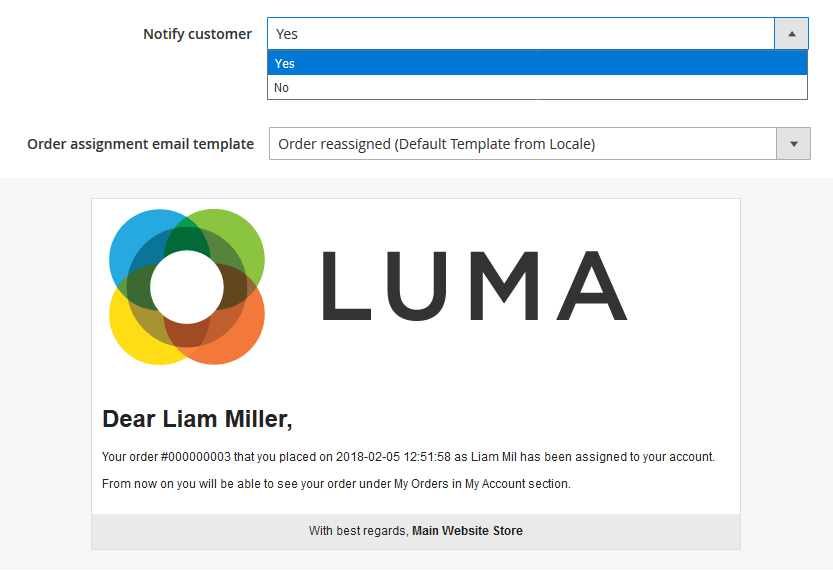 Now after your customer has placed an order using a different email address you can reassign the order manually to the right account on the order view. If your customer asks to reassign all orders to the main account you can do it with ease! You can reassign multiple orders in bulk on the orders' list in backend. Besides manual settings the extension allows to assign new orders automatically on checkout after the customer used the email linked to the account.
The Reassign Order extension for Magento 2 takes the customer service to the next level and reassigns orders between or to existing customers' accounts.