Video Tutorial
The Multiple Wishlists extension for Magento 2 gives your customers ability to save their favorite products organizing items via custom tabs. There are a lot of situations when customers don't want or can't purchase products at once. The extension will help your consumers to save products in different wishlists, copy or move items between wishlists, leave comments for products and configure product options in wishlists, share products with family and friends.
Admin has ability to add and manage wishlists per customer from backend too. Offer customers to create more lists with desired products giving them the full access to the wishlists management on Frontend.
Create and organize multiple wishlists in unique tabs
Add products to existing wishlists or create new ones via a popup. Enter a custom title for each wishlist and a chosen product will appear in a separate tab on the customer dashboard. You can also see a number of products per wishlist. Now your customers will keep products in wishlists for future mom's birthday, special events, upcoming trips separately that make them come back to your store and buy even more.

Configure wishlists on Frontend
Your customers can easily switch between wishlists on the dashboard. Users are able to manage all wishlists and products in them separately. Create wishlists or rename the existing ones. You can also remove the whole wishlist or delete each item in it.
Provide more actions for customers and let users copy or move the same items between different wishlists. Thus there is no need to find the same product and add to the existing wishlists once again.
Your customers doubt and want to leave comments for the next log in? The extension allows to enter texts or update quantities next to each product in the wishlist.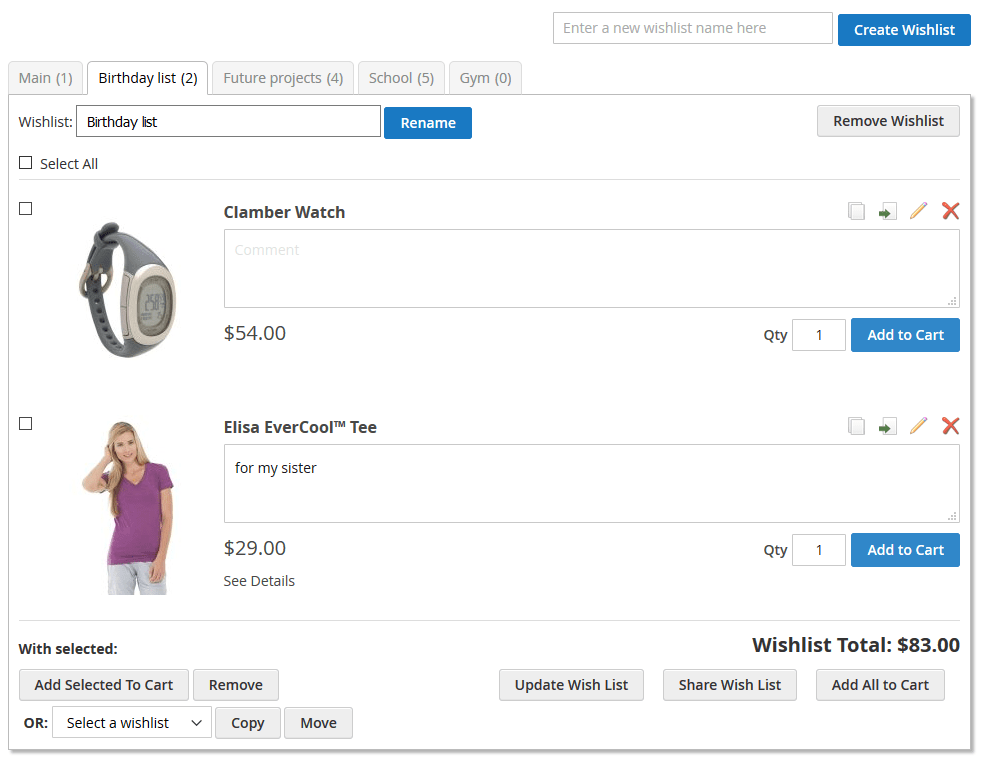 Add and manage wishlists from backend
You can also create multiple wishlists and manage them directly from the customer settings in backend. Organize wishlists in tabs, add more lists or rename them. You are able to apply actions to products and wishlists separately or use the mass actions tool to remove, copy or move products between wishlists. For the more convenient usage you are able to add products directly to the wishlist via a popup.
Create wishlists from backend and manage wishlists for your customers in your own way.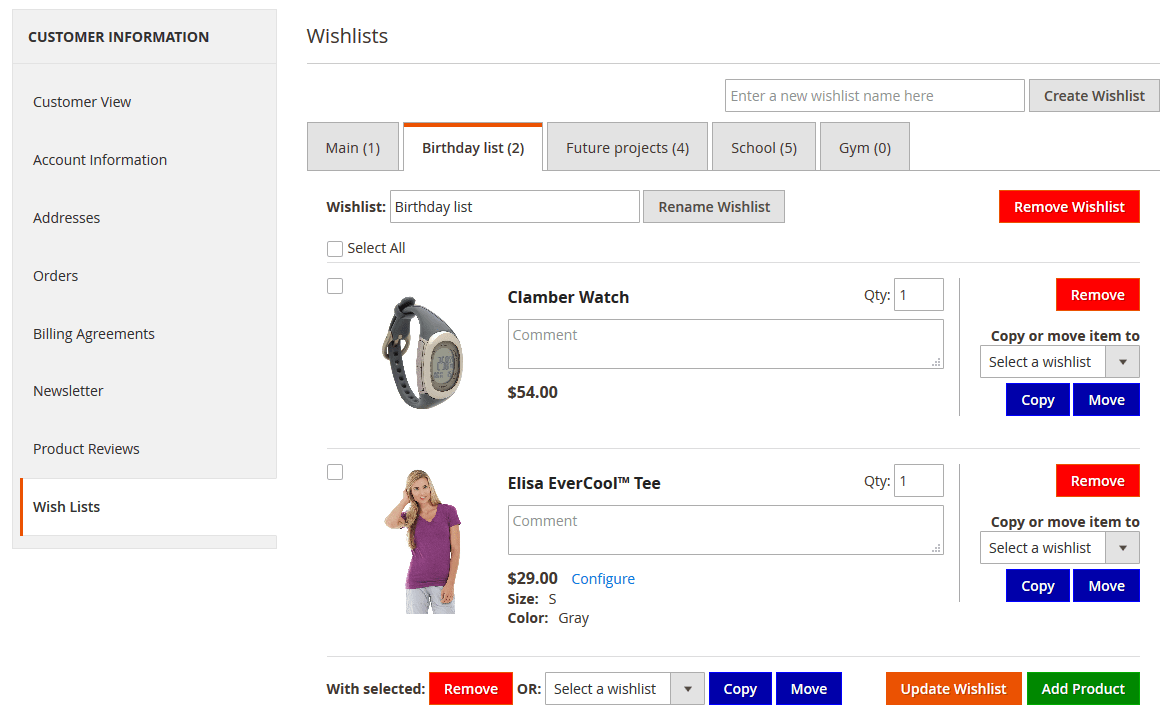 Display and configure custom options
If your products have custom options you are able to configure them via a popup in backend or let customers change them directly on the product page updating the wishlist later. All chosen options are displayed per each product either in backend or frontend.
Wishlists in the cart
By default Magento 2 removes products from wishlists after adding them to the shopping cart. Now your customers are able to keep desired products in the list with no fear to lose them again. You can also make customers stay on the current page after adding products to the wishlists.
The total price is calculated
Let your customers see the price for the whole wishlist. The extension calculates the total price for each list showing the product prices as well. Personalize your customer's shopping experience and make it more convenient than your competitors do.
Share wishlists with friends
After your customers create a wishlist they can share with other people by making the shopping choice even more easier. By sharing wishlists with families and friends your customers will bring more potential consumers to your website that will allow to convert invited users into buyers.

The Multiple Wishlists extension for Magento 2 is focused on presenting of advanced multiple wishlists configuration for online stores that allows to save products for future purhases and build your customer base.