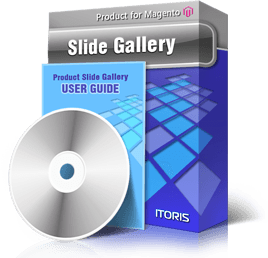 We all know that images sell products. With Slide Product Gallery extension you will attract your customers to what you sell, displaying photos with beautiful effects and providing a far much convenient and attractive tool to view images. Now instead of simple display or products' images you will have a beautiful multi-effect rotating gallery for each of your products.

Your standard image display on products' pages will be substituted with this modern attractive gallery. Now products' pages will have several beautiful rotation effects for all images of the product. Your customers will be able to view auto-rotation, rotate images forcibly, view larger images on hover and on click, switch the rotation off.

In admin area you can choose the rotation effect you prefer, the color scheme for gallery (7 pre-defines), should the automated rotation be activated or not. You will also be able to set size for your gallery.
The following settings are available in admin area:
Ability to select color scheme for the gallery: black, blue, green, grey, magenta, red, white
Style of slideshow: slide horizontally, slide vertically, fade effect
Ability to set the height of the gallery
Switch automated sliding on/off
The following features are available to your customers on each product page:
Thumbnails of all product's images
Display of image's title
Ability to rotate images forcibly with navigation arrows
Ability to switch off/on automated slide show
Your customers will see the images rotating by circle when the automated slider is active
Customers will be able to click on a thumb and it will become active
On mouse hover the image becomes two times larger
On double click the image is displayed in full size + convenient ability to close it (return back).
How to use
Once the gallery is installed – it will substitute your standard image display on products' pages automatically. To change the settings please go to admin area and select System -> IToris Extensions -> Product Gallery
You will see the following settings:
Activate module – un-check the checkbox and the defaults Magento display will be returned
Color Schema – select one of the pre-defines schemes
Effect Type – select should the rotation be applied horizontally, vertically or with fade effect
Height – set the height of your gallery in px.
Enable Slide Show – un-check the checkbox and the images will not be rotated automatically. Your customers will be able to activate rotation on a product's page as well as to rotate images forcibly (clicking the navigation arrows).
View the Demo
Click here to view how it all looks like

Try  to switch off/on auto-rotation. Put you mouse over an image to see on  hover effect. Click an image to see full view. Use navigation buttons to  rotate images forcibly.
Screenshots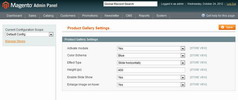 Reviews
Customer Reviews
No reviews yet
Questions & Answers
Questions & Answers
No questions yet
Change Log
10 REASONS TO CHOOSE

Risk-Free Investment

No risk at all. 60-day money back guarantee.

Simple Licensing

One license per one Magento® installation. No store, website, or domain limitation. No monthly or hidden fees.

Free Updates

Get six months of free updates! Simply download the latest version of your favorite extension from our website when you need it.

Free Installation Service

Contact Us and we will help you install our extensions absolutely for FREE.

Full Open Source

No obfuscation, no encryption. Only Full Open Source extensions. Ideal for customizations.

Following Magento® Standards

All our extensions are written following Magento® code standards.

Professionally Tested Modules

We do our best to keep quality of our extensions: performance, functional, and cross-browser testing.

Comprehensive Documentation

Detailed documentation for all extensions is available online and in PDF. Forum and FAQs.

Outstanding Support

Free and friendly EST time support. Help, tips & tricks, and even small customizations will be provided.

Long Term Strategy

8+ years in eCommerce. We grow to provide you even better services and extensions, and are always open to customers' suggestions.