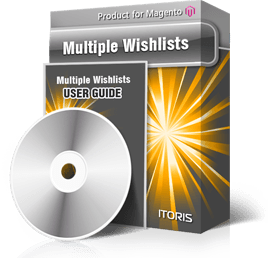 Good shopping needs good planning. It is a great idea to create separate wishlists for future Christmas shopping, for dad's birthday, keep shoes and dresses of dream separately... Provide your customers with all this with Multiple Wishlists extension.
Wishlists are created in eBay-style - directly when a new product is added to the wishlists, customers can select if an existing list should be used or a new one created. When wishlists area is opened - all created wishlists are organized in tabs. Customers can easily switch between them. Customer can create unlimited number of wishlists, rename or delete them.
Products can be moved between wishlists or copied to another wishlist. The same product can be in 2 or more wishlists at the same time. If product has custom options and was added to wishlist from the product page, all options will be stored and displayed in the wishlist next to the product. The options can be updated by clicking the "Edit" button.
Customer can add one or all products from wishlist to cart. Typically Magento removes the products from wishlist in this case. The Multiple Wishlists can keep  products in wishlist (admin's setting). So the wishlist will be used like a checklist.
It is possible to share a wishlist with friends by email.
Administrator has full control over customer's wishlists. Natively Magento doesn't allow to edit customer's wishlists or add new products in backend. The Multiple Wishlists extension enables the functionality.
New wishlists can be created in backend, removed, renamed. Products can be added there or removed as well. Admin can even create a "readonly" wishlist. Customer will not be able to change or remove products in it.
Features:
Unlimited number of wishlists
Convenient popup to choose a wishlist when adding product to wishlist
Wishlists can be renamed or removed
Products can be copied to another or moved between wishlists
Product's custom options are stored and displayed in the wishlist
Add one or all products from wishlist to cart
Ability to keep products in wishlist after adding to cart
Ability to share wishlist with friends by email
Ability to create, rename, delete customers wishlists in backend
Ability to add or remove product in customers' wishlists in backend
Ability to make a customer's wishlist readonly
Responsive design

NEW
See the Multiple Wishlists DEMO. Register an account to see it in effect.
This video is a good quick start:
Documentation:
10 REASONS TO CHOOSE

Risk-Free Investment

No risk at all. 45 days money back guarantee. No questions.

Simple Licensing

One license per one Magento® installation. No store, website, or domain limitation. No monthly or hidden fees.

Try before purchasing

7-day Trial is available for Magento® Enterprise customers. We save your time and money. Try out our modules for FREE.

Free Installation Service

Contact Us and we will help you install our extensions absolutely for FREE.

Full Open Source

No obfuscation, no encryption. Only Full Open Source extensions. Ideal for customizations.

Following Magento® Standards

All our extensions are written following Magento® code standards.

Professionally Tested Modules

We do our best to keep quality of our extensions: performance, functional, and cross-browser testing.

Comprehensive Documentation

Detailed documentation for all extensions is available online and in PDF. Forum and FAQs.

Outstanding Support

Free and friendly EST time support. Help, tips & tricks, and even small customizations will be provided.

Long Term Strategy

8+ years in eCommerce. We grow to provide you even better services and extensions, and are always open to customers' suggestions.