Video Tutorial
The Multiple Wishlists extension for Magento provides an easy way for customers to organize their favorite products in separate lists. The customers can edit, update, remove wishlists and apply the mass actions to multiple items in bulk. Once a wishlist was created, customer can share it with his/her friends and family by email. The whole wishlists' management is available on Frontend and in the Backend too. The admin can remove, rename or create wishlists for the customers, add products into the lists and configure them as well.
Separate Wishlists for Different Occasions
Stimulate customers to come back to your store and create their own product lists for special occasions. Products can be added to wishlists from the product and catalog pages, search results, the home page and the shopping cart. The extension allows customers to create and add products to an unlimited number of wishlists. When the "add to wishlist" link clicked a popup appears offering the user to select a wishlist they want to add the product to. A new wishlist can be created either in the popup directly or on the customer's Dashboard.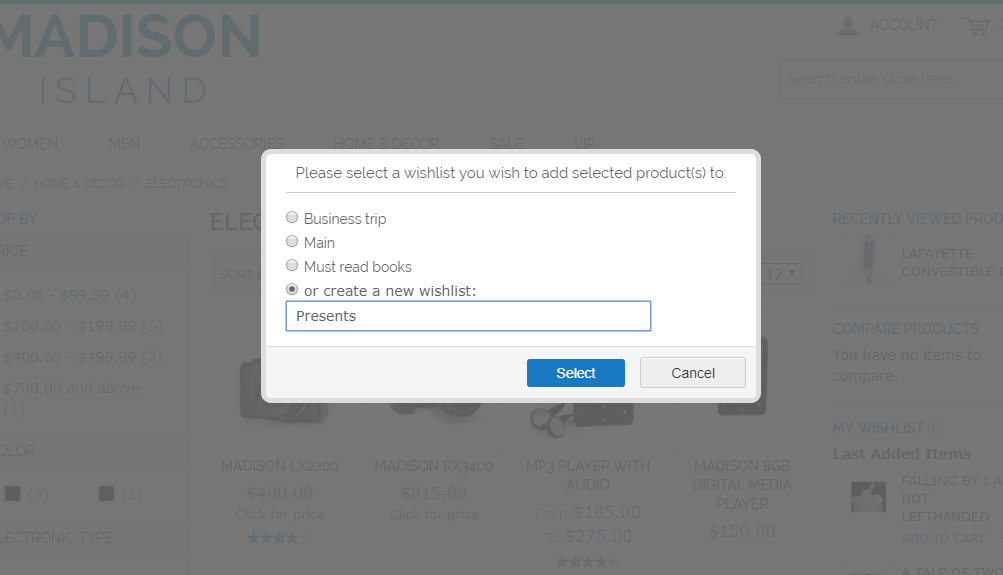 Additional Wishlist Options
By default Magento removes products from the wishlist after adding them to cart. Losing favorite items from wishlists may be inconvenient for customers. Let users keep all the favorite products in the lists using the extension. Also, by default Magento redirects the customer to Dashboard after adding product to wishlist. With the extension you can leave the customer on the same page. Products are added to wishlist via AJAX.
Manage Wishlists on the Dashboard
Provide users with an easy wishlist management. Your customers can manage all the created wishlists on the Dashboard. The extension allows to switch between wishlists, edit, rename or create new ones. The customer can remove a wishlist, change its title, or update the product quantities or comments. The extension allows to apply the mass actions to multiple items. For instance, to remove or copy/move items between wishlists.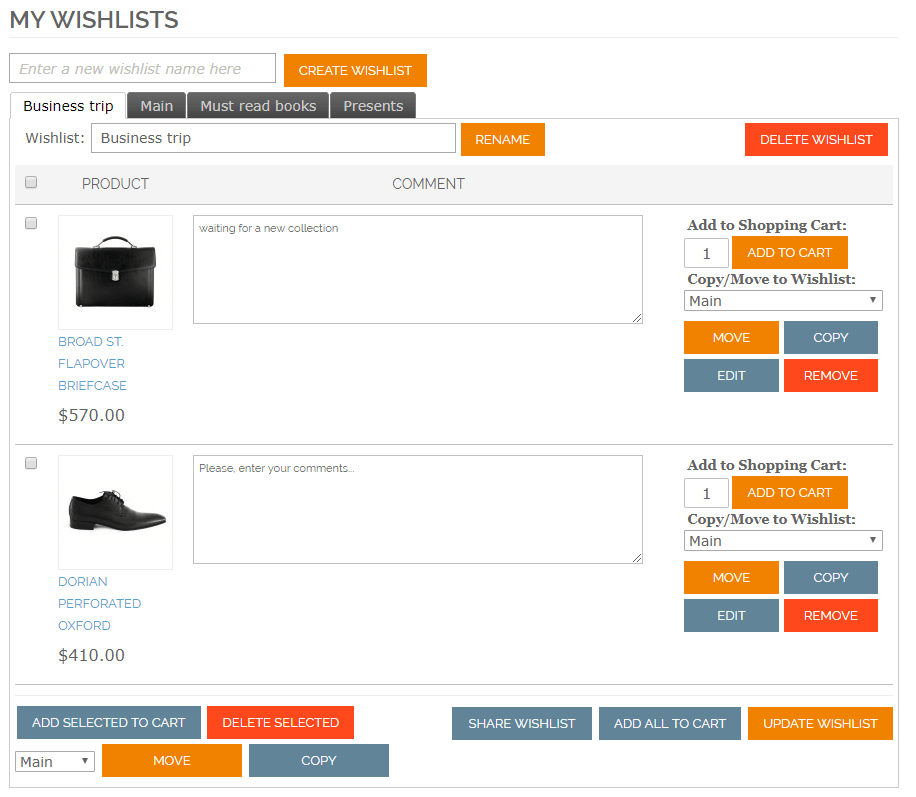 Manage Wishlists from the Backend
The admin can view, create or edit the wishlists in customer's profile in Backend. Add new products to the existing wishlists or create "readonly" wishlists and limit access for editing by the customer. All the collected information will help the admin to analyze the most popular products or manage stock effectively for the future.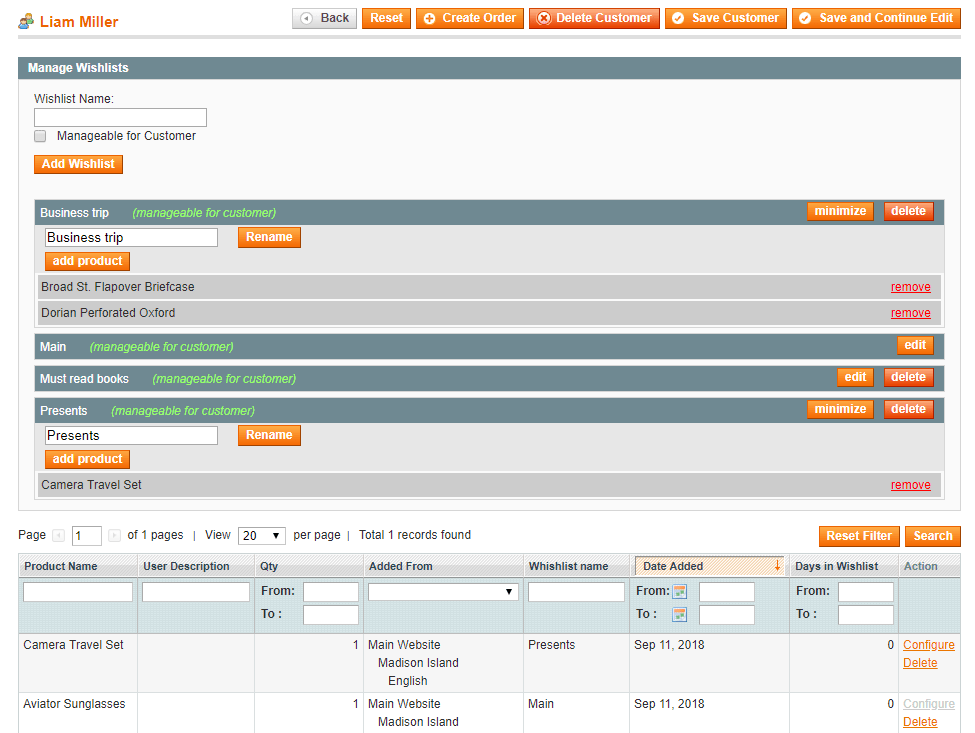 Share Wishlists with Friends and Family
Let customers share their wishlists with family or friends by email. A custom message can be added to the email along with the list of all favorite products.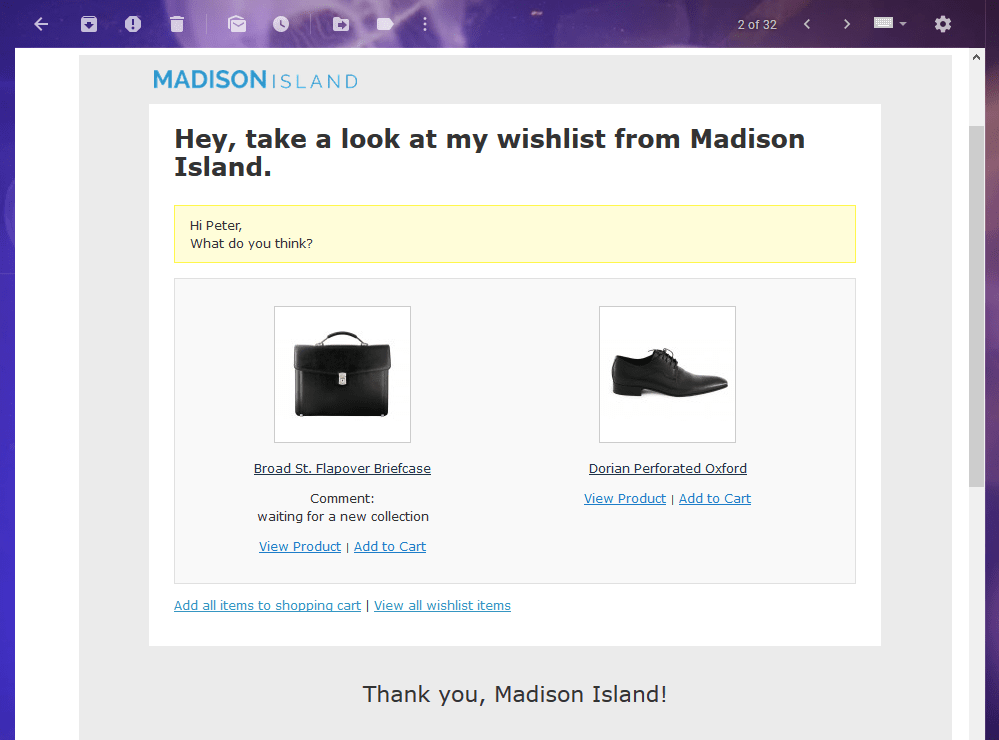 Responsive Layout
The extension has responsive layout. The display is optimized for desktop, tablet, and mobile devices as well.