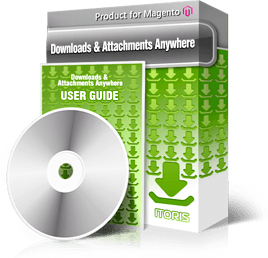 This module allows organizing documents into categories and publish them literally anywhere on your site. Product manuals, archives, agreements, contracts, downloadable images, any type of files, and even symbolic links to documents located on other server.  Now all this is easy with Attachments Anywhere module.
Create downloadable files for product pages, attachments to CMS pages, static blocks or category pages. Upload documents for certain cusomers or entire customer groups. Limit downloads on time (from-to dates). Make product attachments available only to customers purchased the product within the allowed period of time (days, weeks, months).
Files can be organized in categories or displayed all together, easily reordered, published or unpublished. Mass actions are available. For example, you can attach and detach files to multiple products at once! It is possible to show large or small file icons. Customers can download files in their account.
There are 2 security modes available depending on the files you publish - static links indexed by search engines, and secure links generated for each download individually. In secure mode nobody will be able to share private links with others.
If you have a lot of files a special page will give you the list of all objects the files attached to - products, customers, CMS, etc. So you won't miss any file and will be sure all attachments are linked correctly.
Features:
Downloadable files on product pages
Attachments on CMS pages or static blocks
Downloadable files for certain customers
Downloadable files for customer groups
Ability to group files into categories
Easy publishing, unpublishing, reordering
Ability to limit download in time (from-to dates)
Ability to limit purchased downloads in time (period in days, weeks, months, years)
Mass actions. Upload, detach files to multiple products together
Creating symbolic links to files located on other server
Enhanced security. Secure downloads can't be shared
Tutorials and Help
DEMOS:
Attachments Anywhere Video:
User Guides:
Screenshots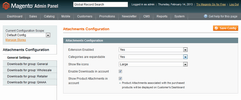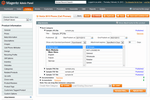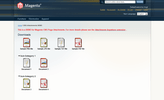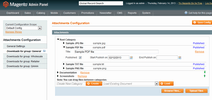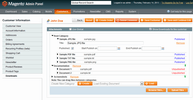 Reviews
Questions & Answers
Change Log
10 REASONS TO CHOOSE

Risk-Free Investment

No risk at all. 60-day money back guarantee.

Simple Licensing

One license per one Magento® installation. No store, website, or domain limitation. No monthly or hidden fees.

Free Updates

Get six months of free updates! Simply download the latest version of your favorite extension from our website when you need it.

Free Installation Service

Contact Us and we will help you install our extensions absolutely for FREE.

Full Open Source

No obfuscation, no encryption. Only Full Open Source extensions. Ideal for customizations.

Following Magento® Standards

All our extensions are written following Magento® code standards.

Professionally Tested Modules

We do our best to keep quality of our extensions: performance, functional, and cross-browser testing.

Comprehensive Documentation

Detailed documentation for all extensions is available online and in PDF. Forum and FAQs.

Outstanding Support

Free and friendly EST time support. Help, tips & tricks, and even small customizations will be provided.

Long Term Strategy

8+ years in eCommerce. We grow to provide you even better services and extensions, and are always open to customers' suggestions.