Dynamic Product Options (v1.3.5) for Magento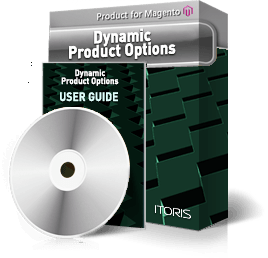 Want to add custom options to your products? That's easy with Dynamic Product Options module. You get a visual editor where you drag options, organize them  in rows and columns and edit them easily. You can create a complex form  literally in minutes. Input boxes, select boxes, textareas, sets of  radio buttons and checkboxes, files, etc. Plenty of settings for  advanced use. Add images, comments to fields, custom CSS styles, and  even JavaScript code!
Need more? Create conditional branching, where options depend on  other options and appear on condition only. If needed, enable options  for specific customer groups only. There are a few ways to display  product options on the frontend - on the product view directly, or in a  popup after clicking "Configure" or "Add to Cart".
There is also ability to create options' templates. Having a template you can easily apply it to multiple products in bulk.
The Dynamic Product Options extension is not only a  custom options editor. This is an all-in-one solution for all your  custom options needs. It enables the functionality of bundle and  configurable products within a simple product. Associate product options  to other simple products and allow customer purchasing selected  products together. Or create a discounted promoset by setting custom  prices to these options.
Features:
Visual Interface. Plenty of settings for developers and webmasters
Configure options for different store views separately
Different form styles: DIV-based (one field per row), Table-based (several fields in a row), Table-based divided into sections
Options display: on the product view, or in a popup after clicking "Configure" or "Add to Cart"
Conditional branching. Make field or a group of fields dependent
Ability to associate options to other products. If selected the associated product's inventory will be deducted after checkout
Various validation rules
Custom pricing
Quantity for options
Tier prices for options
Shipping weight for options

Ability to make fields visible for specific customer groups only
Options templates. Apply templates to multiple products in bulk
Ability to clone options
Fields: input box, text area, drop-down, multi-select, checkbox(es), radio buttons, file upload, date and time, image, HTML/DIV (embed video, description, terms and conditions, external plugins, special code, etc)
Ability to upload images for radio buttons and check boxes
Developer tools: set CSS classes to fields, edit styles inline, CSS and JavaScript editors integrated
Screenshots
DEMO 1: Dependent Options on Product View
DEMO 2: Product Options In Popup (click button "Configure")
Screenshots: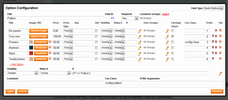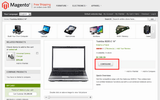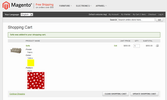 Documentation
Reviews
Customer Reviews
Excellent service
This extension not only operates with great functionality but the support behind it is excellent too. I highly recommend this ext to anyone considering, well worth the investment.
Review by djv - Mar 26, 2018
EASILY EXCEEDED EXPECTATIONS
After many hours of trying to develop "build a kit" functionality with another cheaper extension, we bought and installed the Dynamic Product Options extension and it did what we wanted within minutes. The ability to copy templates and options is a huge time saver. The conditional logic also makes the user experience a pleasant one - they only see what they need. No more huge list of options on the front end. The admin interface is super easy to understand and use too. In regard to support, within a few moments, iToris support had me up and running. The problem was not with their extension, but a conflict of with the cheaper extension we had tried, but didn't properly disable. My advice: Don't waste time with a cheaper option like we did... spend the money now and get it right the first time.
Review by cander09 - Nov 18, 2015
WOW...WOW!
Ok, the truth is I've yet to dig into the ext., however, given the top notch, lightning quick response and support from Roman, I expect nothing less than awesomeness from the extension and if it is problematic, I'm confident the matter will be resolved. Roman, not only cleared up a serious issue but left me a product example to build from. In essence, I called him to fix my oven, he did and cooked me a quick dinner as well! Worth it, buy it, just do it! Monies well spent.

Review by johntroiano - Sep 29, 2015
top product, excellent support
Very impressed with the product and the support service from Itoris.
Review by jbol - May 10, 2015
Excellent solution for complex products
We are using this module to offer complex product options on a site, where product options are dependent on previous selections, etc. The interface it provides for configuring custom options is excellent and looks great on the front end.
Review by Andy_I - Mar 4, 2015
quality support & extension
This is our 3rd extension from Itoris. Support is always responsive and their extensions work as described. Their Installer extension also makes installation so much easier than dragging folders via ftp.
Review by avelc - Jan 29, 2015
Exceeds Expectations
We have several websites that sell customized products. We have scoured the web looking for dynamic/conditional options solutions that were robust enough to meet all of our needs. We looked at everything, not just Magento and nothing was even close to Itoris's solution. This solution is very easy to implement, intuitive, and built in a way that provides the flexibility we need with different products and options, and very complex dependent options. After the purchase, Roman and his team were extremely responsive not only answering questions in a timely fashion but even enhancing some aspects of the solution well beyond our expectations.

Review by romanorus - Sep 22, 2014
Superb Quality, Excellent support
This extension did exactly what I needed, everything worked as described. The support is excellent, I got responses to all my questions very quickly. I also got plenty of tips and even technical help to customize the extension to fit my needs. I feel the itoris team extended themselves well beyond what I have seen with other support teams. I can highly recommend the extension based on the quality and excellent customer care. Thanks Itoris.

Review by Mortimer09 - Sep 16, 2014
incredible services!!!
Product is very good, but beyond that, service was just great, Roman went beyond what was expected, many thanks.

Review by cybergarou - Jul 7, 2014
A must have extension
This extension is a must have for any magento store. We use it on a printing website and it gives a great scope for customised products when using custom options. The levels of support from the team at Itoris are fantastic, emails are answered quickly with friendly and helpful advice.
Review by scribesdigital - Jun 24, 2014
Write Review
Questions & Answers
Questions & Answers
Charles - 5 months ago
Question: Hi,

The module is responsive in front office ?

Thanks for you response.

Charles
ITORIS Team - 5 months ago
Answer: Hello Charles,
Yes, the extension is fully responsive on Frontend. Good for mobile and desktop browsers.
Tom - 8 months ago
Question: Hello
I like to use your extension Dynamic Product Options for one of my magento projects. Is this module code encrypted? I'm asking becose maybe I run in some troubles becose we have costomized some parts of single product and if that conflicts with your extension we might have to change some code.

thnks for information
Tom
ITORIS Team - 8 months ago
Answer: Hello Tom,
All our extensions are open source. You are free to customize them after installation.
Ask Your Question
Change Log
Legend:
+ - new feature
* - bugfix
^ - improvement
- - excluded feature

1.3.5 (2017-11-14)
^ Showing SKU of associated products in cart and in order
* Fixed issue with field's visibility if it is hidden without conditions
* Fixed order creation from backend when options were loaded from the default configuration scope rather than from selected store view
* Fixed issue with default dropdown value if the dropdown is dependent on other field

1.3.4 (2017-04-07)
* Fixed display of tier prices if option has QTY and tier prices

1.3.3 (2016-12-22)
* Fixed issue with options display when creating new order via backend

1.3.2 (2016-10-11)
* Fixed issue with visibility conditions of static elements like HTML or Image
* Fixed issue with "Add to cart" button if options displayed in popup

1.3.1 (2016-09-28)
* Fixed popup with options on configurable products when both the configurable and custom options displayed on form

1.3.0 (2016-07-20)
* Fixed issue with dependent fields when editing product from cart
* Fixed issue with QTY > 1 when editing product from cart

1.2.3 (2016-06-01)
^ Fixed issue with comparing numbers as strings in visibility conditions

1.2.2 (2016-04-08)
- not showing options' images in order details in backend, in emails and invoices

1.2.1 (2016-03-11)
* Fixed disabled "weight" property if option SKU entered

1.2.0 (2016-01-05)
* Fixed issue with editing product options from cart if flat catalog is enabled
^ Improved compatibility with custom themes on frontend

1.1.3 (2015-12-29)
* Fixed issue with copying custom options while duplicating product

1.1.1 (2015-11-20)
* Fixed "Save" action for options templates after SUPEE-6788

1.1.0 (2015-11-03)
^ Added compatibility with Magento CE 1.9.2.2, EE 1.14.2.2, and patch SUPEE-6788

1.0.29 (2015-10-27)
^ The options editing area increased from 5 to 10 columns. More options per row is allowed now.

1.0.28 (2015-07-17)
* Fixed conflict with Full Page Cache in Magento Enterprise 1.14.2
+ Back to stock products associated with options if order canceled or credit memo issued

1.0.27 (2015-07-02)
* Fixed issue with cleared default hint in input boxes

1.0.26 (2015-06-20)
* Fixed issue with creating order in backend for products having options with default value
* Fixed issue with hiding dependent options by chain at 3rd and higher level
* Fixed issue with required options with "configurable" product type
^ Added compatibility with color swatches of "configurable" products

1.0.25 (2015-04-30)
+ Added weight support on the options level
* Fixed issue with saving options on non-default store views

1.0.24 (2015-04-20)
* Fixed weight calculation on checkout for linked options
* Resetting the form if Cacnel clicked on the options popup on frontend

1.0.23 (2015-04-01)
* A few fixes to the DPO options renderer in backend when creating new order

1.0.22 (2015-03-24)
* Hiding options not related to current customer group
* Skipping required options is cart if not related to current customer group

1.0.21 (2015-03-17)
^ Added Dynamic Product Options renderer to the new order product composite in backend

1.0.20 (2015-02-04)
* Fixed issue with lost default option of radios and checkboxes in conditional chain > 2
* Fixed issue with QTY field shown when not selected

1.0.19 (2015-01-28)
* Fixed issue with rounding prices while saving options

1.0.18 (2015-01-05)
^ Improved speed of mass actions "Copy Custom Options 1 to Many" and "Load Options Template 1 to Many"
* Setting options' qty when editing product from cart

1.0.17 (2014-12-26)
+ added possibility to create different forms for different store views
+ added Tier Price configuration to product options
^ added POST compression to avoid the limitation of "max_input_vars" in php.ini

1.0.16 (2014-12-04)
* Fixed default value for options when changing section's visibility
* Fix for hidden <option>s in IE and Safari
* Fixed not saved section's visibility in options templates
- Not showing options' images in order details in backend, and in emails and invoices

1.0.15 (2014-11-21)
* Fixed display of hidden fields on page load
* Added fix for dependent options
* Fixed link '+ Add Option' for multi options in Chrome

1.0.14 (2014-11-11)
* Fixed issue with missing option default value on dependent fields
- Removing 'default value' for "date", "date and time", and "time" fields

1.0.13 (2014-10-22)
+ Added mass actions on the product grid: 'Copy Custom Options 1 to Many' and 'Load Options Template 1 to Many'
+ Added possibility to move options using arrows
^ Considering the weight of linked products to options on shopping cart

1.0.12 (2014-10-01)
+ Added QTY field for dropdown, radio and checkbox options
+ Added 'extra javascript' setting
* Fixed issue with clonning options

1.0.11 (2014-09-15)
+ Added possibility to hide whole section based on conditional rule
+ Added possibility to link product inventory to an option
+ Added possibility to clone custom options
+ Shifting elements down if cell is occupied during drag&drop

1.0.10 (2014-08-12)
^ Added automatic reorder for options of radios, checkboxes, selectboxes
* Fixed issue with removed spaces in copy/pasted conditions

1.0.9 (2014-08-05)
^ Optimized options popup size and position

1.0.8 (2014-08-04)
* Fixed conditional rule (field != '') for options
+ Added possibility to create options for new products (not yet saved)
* Fixed issue with resetting dependent dropdown options
+ Added possibility to copy/paste conditional branching rules

1.0.7 (2014-05-22)
^ Added compatibility with Magento CE 1.9

1.0.6 (2014-05-08)
^ Fixed issue with the order of options in dropdowns

1.0.5 (2014-04-17)
* Fixed JSON error in Chrome browser

1.0.4 (2014-04-16)
* Fixed issue with creating new store view
^ Improved saving options on frontend

1.0.3 (2014-04-07)
^ Improved saving of big forms with a lot of fields

1.0.2 (2014-03-11)
^ js optimization
+ hide dropdown if all options are hidden

1.0.1 (2014-02-17)
^ Added competibility with Magento CE 1.4-1.5


10 REASONS TO CHOOSE

Risk-Free Investment

No risk at all. 60-day money back guarantee.

Simple Licensing

One license per one Magento® installation. No store, website, or domain limitation. No monthly or hidden fees.

Free Lifetime Updates

Never pay for updates! Simply download the latest version of your favorite extension from our website when you need it.

Free Installation Service

Contact Us and we will help you install our extensions absolutely for FREE.

Full Open Source

No obfuscation, no encryption. Only Full Open Source extensions. Ideal for customizations.

Following Magento® Standards

All our extensions are written following Magento® code standards.

Professionally Tested Modules

We do our best to keep quality of our extensions: performance, functional, and cross-browser testing.

Comprehensive Documentation

Detailed documentation for all extensions is available online and in PDF. Forum and FAQs.

Outstanding Support

Free and friendly EST time support. Help, tips & tricks, and even small customizations will be provided.

Long Term Strategy

8+ years in eCommerce. We grow to provide you even better services and extensions, and are always open to customers' suggestions.