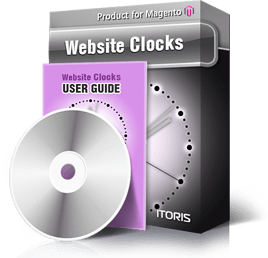 Website Clocks Extension for Magento is for you to decorate your online store with live clocks.

Do not make your customers calculate what time you have now – show them. Display time zones of your partners or departments collated in different countries. Or just add a nice gadget to make your website even more attractive.
The extension is absolutely free! Download, install and enjoy.
To make your life simpler we provide IToris Installer. Unpack it to the root of your website, with it you will install and update all our Magento extensions and design themes with one click in your admin area. Read more
How to use
Open Website Clocks in admin area (System -> IToris Extensions -> Website Clocks). There will go the general settings for your clocks. You can set them or leave empty and add settings to each clocks individually. For each clocks select:
Height and width in pixels
Design skin (there are 6 defaults skins, you can also upload your custom ones)
UTC shift (shift in hours or hours and minutes from UTC)
The page in admin area provides samples how clocks can be added to a content page or to a file layout. You can also add them as widget in standard Magento way.