3D Tag Cloud (v1.1.0) on JavaScript for Magento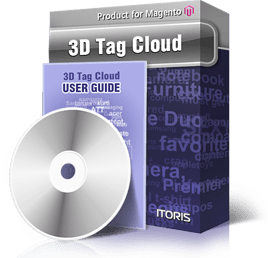 3D Tag Cloud (on JavaScript) for Magento is a beautiful extension that rotates the tags by sphere or ellipsoid trajectory. You can choose the color of tags, the color of background, fonts. You can also create your own custom list of tags to be rotated.
Technology. No Flash has been used at all, the extension uses pure JavaScript, so there will be indexation of your tags by search engines.
Rotation trajectory. Some of your tag cloud areas can be squares, some – rectangles. Tag cloud rotates by spherical or ellipsoid trajectory accordingly.
Custom tags. With this extension you can use defaults website tags. You can as well create your own list of items (your best products, or URLs of your partners, or special features of a product) that will be rotated with the same effect. Moreover, you can set different weights for each item (this will influence the size of the item) and add different colors to each item.
Settings. You can select the font of tags, its size and color. The color of the background can be selected or it can be transparent. You can set borders around tags, set border color.
Add Tag Clouds to Website. You can replace all defaults tag clouds with the new ones automatically. You can also add tag clouds to CMS pages and to files' layouts. Each tag cloud area can have its own sizes
Custom tags. When you create a custom list of items to be displayed as tags – you can enter item name and redirect URL. You can select the weight of the item (the higher the weight is the larger the item will be). Each item can have its own color. Items can have borders, you can set border color as well. You can select the font, font size and background color for your cloud of custom items.
Sizes of Tag Cloud Area. The sizes of area can be strictly set when you add the area to the website – or it will be calculated automatically. Several areas on the same website can have different sizes.
Documentation
Screenshots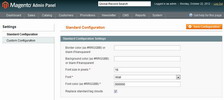 Reviews
Customer Reviews
No reviews yet
Questions & Answers
Questions & Answers
No questions yet
Change Log
10 REASONS TO CHOOSE

Risk-Free Investment

No risk at all. 60-day money back guarantee.

Simple Licensing

One license per one Magento® installation. No store, website, or domain limitation. No monthly or hidden fees.

Free Updates

Get six months of free updates! Simply download the latest version of your favorite extension from our website when you need it.

Free Installation Service

Contact Us and we will help you install our extensions absolutely for FREE.

Full Open Source

No obfuscation, no encryption. Only Full Open Source extensions. Ideal for customizations.

Following Magento® Standards

All our extensions are written following Magento® code standards.

Professionally Tested Modules

We do our best to keep quality of our extensions: performance, functional, and cross-browser testing.

Comprehensive Documentation

Detailed documentation for all extensions is available online and in PDF. Forum and FAQs.

Outstanding Support

Free and friendly EST time support. Help, tips & tricks, and even small customizations will be provided.

Long Term Strategy

8+ years in eCommerce. We grow to provide you even better services and extensions, and are always open to customers' suggestions.