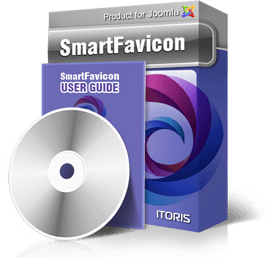 A unique tool that can make your website more personal, interesting, and just plain fun, Smart Favicon is designed to help you handle your icons, from upload to placement and editing whenever you feel the need.
Smart Favicon comes with a default set of favicons (favorite icons) that you can choose from, such as seasonal, time-oriented, and business-related icons. If you don't find what you want, that's okay, too. Smart Favicon will also allow you to upload your own icons and will even resize the images automatically. Want your company logo turned into an icon that you can put all over your site? Consider it done. Perhaps you've found a cute little puppy that would look great on your doggie daycare website? Upload it and viola—you'll have your own icon to use on your site however you choose.
The Smart Favicon system allows you to set the time frame that you want an icon up, and a rotation schedule if you so choose, making it perfect for seasonal or time-related icons, or just to spice things up and keep them interesting. So how much does all this cost, you ask? Well, some companies might want to charge a lot of money, but our goal is to provide you with top-rate services at bottom-dollar prices. As such, you can download the Smart Favicon program and its manual absolutely FREE! It's always nice to get something for nothing, and it's just a nice bonus that we give to our customers.
Documentation