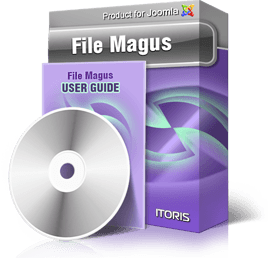 File Magus is an advanced file manager with plenty of abilities for you to easily manage files and folders of the website. You will have an impression you work locally thanks to the modern interface of File Magus (indeed, you can even drag a file from your computer directly on server). Bulk copying, moving and deletion, archives, FTP and HTTP connections, direct preview of files and even ability to edit code files. Plenty of settings, hot buttons, pan interface, executing OS commands – your work with Joomla's files has never been so easy. Worth trying, isn't it?
Pack includes:
component for J1.5.x/J1.6.x
License key for one website
free updates
documentation
Professional installation +$49
$39.00
It includes:
quick and professional response
configuration support for all IToris products
online Help Desk
Support Membership
for the term of
$99.00
Features
Feature
Lite
Full
Creating, copying, moving, renaming, deleting files/folders
Syntax highlighting editor for editing files
Changing Windows/Linux file/folder permissions
Changing Linux file/folder owner
Compressing/decompressing
.zip
.zip, .tar, .gz, .tgz
File search by name, content, size, creation date
Downloading, uploading files
(files can be drag&dropped from desktop to browser!!! FF >= 3.6, IE 9)

plus Flash uploader
Files/folders comparison
Files/folders list builder
Splitting/combining files
Windows/Linux OS command line
HTTP downloader
Full-functional FTP client. Up to 4 parallel connections
Viewing system information
Interface
Active resizable Pans
1, 2
1, 2, 4
Pan view modes: short, detailed, custom, directory tree, quick view
Selecting/deselecting files/folders, inverting selection
Previewing image files
Hot keys
Navigation history
Context menu
Quick info hints, quick action bar
Interface languages
Interface skins
Plugins


Joomla Compatibility


Pricing
Free
$39.00
System Requirements
Server side requirements:
Joomla! 1.5.x or 1.6.x
MySQL Database 4.1x or higher
PHP 4.3x or higher


Supported browsers:


Internet Explorer 7.0 or higher
Mozilla Firefox 2.0 or higher
Google Chrome 1.0 or higher
Opera 9.5 or higher
Safari 3.0 or higher
Licensing
File Magus Lite is provided under GNU GPL license.

File Magus Full is provided under commercial license. One license includes ability to install the extension on ONE domain (or sub-domain or localhost) only. License can be switched from one domain to another.
Support
Free support is provided in two cases only:
Problems with extension's installation
Bugs found
All other cases are supported via forum (no answer guaranteed) or via Support Help Desk. Support via the Help Desk is provided as a separate service. To gain access to the desk please purchase support service (you can select the period of support).
It includes:
quick and professional response
configuration support for all IToris products
online Help Desk
Support Membership
for the term of
$99.00
Find more about support services in our Support Terms and Conditions
Documentation