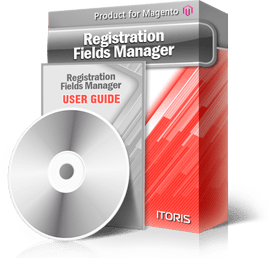 Creating custom registration form and building customers' account on Magento has never been so easy!
It is often needed to collect some additional information about your customers during the registration - so that to know more about them and be able to provide better services.
Registration Fields Manager provides a powerful tool to customize registration form in minutes.
You will get a visual editor that will display 2 standard Magento registration sections and 6 default fields. You can create new sections as well as add new fields. There is an up-to-date drag-n-drop interface - move fields and sections easily to create the ideal look.
Though 6 standard registration fields can't be deleted, yet you can change their location and order by moving them to other sections.
Built-in validation is provided (if you select email - then only emails can be entered), as well as ability to make fields required or not. Advanced users will also find CSS classes and HTML arguments.
And even more - all custom fields will be available in customers' profiles as well as in admin area. They are editable the same way as standard Magento registration.
You can pull such standard Magento fields as address, Vat, phone number, gender, company, date of birth, etc. to the registration form. And even customer group - if you prefer your customers to select their group themselves.
You can create different registration forms for each store separately - and hence the accounts will contain different fields as well.
To make your life simpler we provide IToris Installer. Unpack it to the root of your website, with it you will install and update all our Magento extensions and design themes with one click in your admin area. Read more
Registration Fields Manager
Full version for Magento Community Edition
Pack includes:
Extension for Magento CE 1.4.x, 1.5.x, 1.6.x, 1.7.x, 1.8.x, 1.9.x
1 month of Support
Free updates
Documentation
Video Presentation:
Documentation: