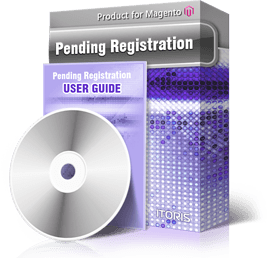 By defaults all Magento customers can login immediately after creating an account. Pending Registration extension builds in general Magento registration and expands it.
With this extension your new customers will get pending status. They will not be able to login to the website until their accounts are validated.
Administrator validates the accounts and can either activate or decline them.
Pending Registration extension includes 4 email templates. Emails' sending is automated for you, all you should do is to write your own texts. Email is sent to administrator when a new account is created, to customer when a new account is created (substitutes standard Magento email). Two more email templates are provided for customers to receive when accounts are either approved or declined.
Unlike in Magento, Pending Registration extension provides visual interface for emails (WYSIWYG). No need for coding, you created email templates in a simple way and see what you get immediately. You can include standard Magento variables to emails.
If you have customers' accounts already - there is ability to apply a status to them in bulk, make them all pending or approved.
Pending Registration module can work in combination with Store Login Access module . For example you have a wholesale and a retail website. With Store Login you can make wholesale store visible only for logged in customers and block ability for retailers to login to wholesale store, and with Pending Registration you can manually validate new accounts of wholesalers, while retailers will be able to login instantly after the registration.
To make your life simpler we provide IToris Installer. Unpack it to the root of your website, with it you will install and update all our Magento extensions and design themes with one click in your admin area. Read more
Full version for Magento Community Edition
Pack includes:
Extension for Magento CE 1.4.x, 1.5.x, 1.6.x, 1.7.x, 1.8.x, 1.9.x
1 month of Support
Free updates
Documentation