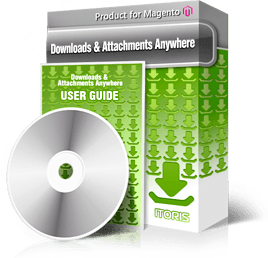 Want to upload user manual to your product pages? Or agreements, contracts, downloadable images and other documents? Or even link an external download located on other server?
Now all this is easy with Attachments Anywhere module.
Create downloadable files for products pages, add attachments to CMS pages and even to customers' dashboard.
Need more? Make files available under special conditions only - when this product has been purchased by the customer or for some stores/storeviews only. Limit downloads' availability for selected customers groups.
Files can be organized in categories or displayed all together. You can create separate sets of files for each customer group individually in dashboard.
One more great case - you can upload files individually for a customer. Secure download will not allow using direct URL for not-allowed downloading, as special security check validates the validity of each file.
To make your life simpler we provide IToris Installer. Unpack it to the root of your website, with it you will install and update all our Magento extensions and design themes with one click in your admin area. Read more
Full version for Magento Community Edition
Pack includes:
Extension for Magento CE 1.4.x, 1.5.x, 1.6.x, 1.7.x, 1.8.x, 1.9.x
1 month of Support
Free updates
Documentation
DEMOS:
Attachments Anywhere Video:
User Guides: