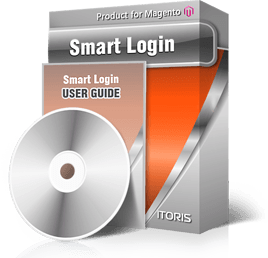 One thing your customers may totally dislike about your store is that to login or register they have to go to dashboard and lose what they do now
Smart Login is a nice Magento module that perfectly solves this problem - it adds links to the top of your website (or where you prefer them to have). Your customers will click a link and a modal window with a form will pop-up (DIV). Now they can login or even create a new account, submit and still stay on the same very page.
Login and Registration are performed using modern JSONP technique. All background calls go through HTTPS (if you have a SSL certificate installed on your server). All customers' data is secured even if users are on HTTP pages!
Yet if you want to create a special redirect - for example, you have a great sale or proposal and want your customers to notice it - Smart Login allows this as well. You can set redirects after login/registration to the dashboard (of current store or the one on which account has been created), to the main page or to a custom URL that you enter.
The module includes all important features associated with registration and login - forms, ability to retrieve password, validation. All this within the same modern style in modal windows.
You can customize registration form with our Registration Fields Manager module and combine it with Smart Login, or create an extended registration via Magento means - the custom form will be displayed in the modal window.
To make your life easier we provide IToris Installer. Unpack it to the root of your website, with it you will install and update all our Magento extensions and design themes with one click in your admin area. Read more
Smart Login and Registration
Full version for Magento Community Edition
Pack includes:
Extension for Magento CE 1.4.x, 1.5.x, 1.6.x, 1.7.x, 1.8.x, 1.9.x
1 month of Support
Free updates
Documentation