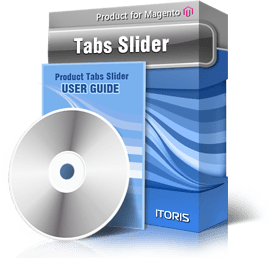 Product Tabs Slider module creates a modern tabular interface on your products' pages, thus organizing all products' information in a well-ordered way and making it more user-friendly. This Magento tab extension is a great way to make things easier for your customers, search engines and you!
Your customers no longer scroll pages down and down to find all products' information - all organized and provided in a tabular interface. You can set tabs to be changed on click or on hover.
No extra coding for you to create tabs - the module will use standard Magento product blocks and create tabs from them. If your layout has no blocks - they can be declared there. Each tab has a unique anchor, so you can point your customers to a selected tab on products' pages.
You can create standard tabs that will pull data from products' attributes, as well as custom tabs, where you can add any content you wish - texts, images, links, videos, even Magento widgets. Please see our demo with contact form and Questions/Answers functionality inserted into tabs.
Moreover, you can create a separate set of tabs for each store/storeview, as well as change tabs for each product individually (add unique tabs or exclude some standard ones).
Scrolling for tabs appears automatically when there are more tabs than the page can display. There is a way to select where in your layout the tabs should be displayed with primary tab. Pre-created responsive design schemes (ideal for mobile and desktop templates) to meet your website's look as well as ability to switch beautiful sliding effect when tabs are changed - all this allows adding and designing tabs literary in minutes for your stores.
Search engines index all your tabs easily the same way as they would index blanket-style product pages. So no information will be lost for search engines.
NEW FEATURES! Now you can make tabs available for selected customer groups only. Also you can create tabs visible for the customers who have purchased a product or for those who have not purchased this product yet only. Now tabs are responsive (for responsive themes and mobile themes)
To make your life simpler we provide IToris Installer. Unpack it to the root of your website, with it you will install and update all our Magento extensions and design themes with one click in your admin area. Read more
Full version for Magento Community Edition
Pack includes:
Extension for Magento CE 1.4.x, 1.5.x, 1.6.x, 1.7.x, 1.8.x, 1.9.x
1 month of Support
Free updates
Documentation

This extension depends very much on the template you have on Magento. Based on the information from the template the tabs are formed. As there are plenty of templates, each having a different layout and not all of them meeting the default Magento logic, some templates prevent Tabs extension from displaying correctly. This is neither the fault of the template not the extension, yet as they are sub-dependent the template should be adjusted a bit sometimes to make them work together. It will not change the design and look, and at the same time allow Tabs extension form the tabs correctly.
That is why we recommend Professional Installation service. It includes both the installation and template adjustments. Check the service checkbox to include it in the order.
Have a look at our demo – what you get after you purchase Product Tabs Slider for Magento. Product Tabs Demo
Video Tutorial:
There is a User Guide available as well. You can read it online or download as PDF.