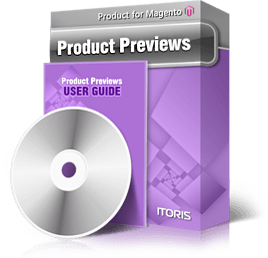 When your customers browse your products and compare several ones - it can be timely to open each product page, then return back to the list, and so on.
Product Previews module provides quick view for products without directing to other pages - all main product details can be previewed directly from the products' list.
Your customers will see a special semi-transparent icon when mouse is over a product. It opens up a modal window with the main product details - image(s), price, description, reviews as well as ability to add to wishlist/cart/compare.
For bundle, configurable, grouped products or the ones with custom options there is ability to configure products directly in the details' window and still stay on the same page.
As Product Previews module works fine with the majority of product lists, this including wishlists, your customers get one more nice feature. There is ability to configure products, select options directly in the wishlists, without re-opening the products' pages. This feature works fine on Multiple Wishlists module as well as standard Magento wishlists.
To make your life simpler we provide IToris Installer. Unpack it to the root of your website, with it you will install and update all our Magento extensions and design themes with one click in your admin area. Read more
Full version for Magento Community Edition
Pack includes:
Extension for Magento CE 1.4.x, 1.5.x, 1.6.x, 1.7.x, 1.8.x, 1.9.x
1 month of Support
Free updates
Documentation
See the Product Previews DEMO
Screenshots: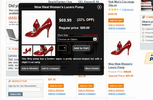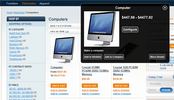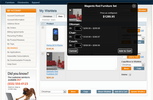 Features:
AJAX-driven effects (modern look) - smooth, fast and beautiful
All important products' information:
Price - regular or discounted and percentage of saving
Image or several images with ability to view them all
Short Description
Reviews and Rating
Ability to add to cart, wishlist, compare
Custom options and configurations of products directly in Details window
Works fine with the majority of Magento product lists, with includes even wishlist
Ability to configure products or select options directly in wishlist