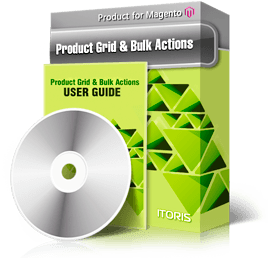 Product management is one of the core abilities in Magento. Yet sometimes updating products can be time-consuming, and the more products the more time is required.
Advanced Product Grid is of great help here.
Convert your standard products' table into a convenient, AJAX-driven interface where you can apply changes directly in the table.
Select which columns to be displayed, which system values and product attributes you want to see in the table. Want to switch columns' places? Simply drag them and drop on a new place.
Bulk actions can fasten products' updating greatly. Additional bulk actions will help you updating selected attributes for a number of products together.
If there is functionality on the product grid you do not normally use - simply switch it off with Product Grid module and have more space for convenient product management.
To make your life simpler we provide IToris Installer. Unpack it to the root of your website, with it you will install and update all our Magento extensions and design themes with one click in your admin area. Read more
Full version for Magento Community Edition
Pack includes:
Extension for Magento CE 1.4.x, 1.5.x, 1.6.x, 1.7.x, 1.8.x, 1.9.x
1 month of Support
Free updates
Documentation
Product Grid & Attribute Bulk Apply Video:
User Guides: