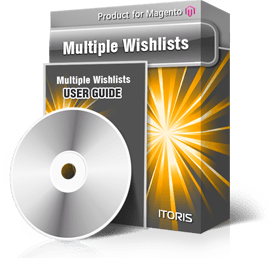 Now fully responsive! Ideal for desktop and mobile themes. Good shopping needs good planning. It is a great idea to create separate wishlists for future Christmas shopping, for dad's birthday, keep shoes and dresses of dream separately...
Provide your customers with all this with Multiple Wishlists extension.
Wishlists are created in eBay-style - directly when a new product is added to the wishlists, customers can select if an existing list should be used or a new one created. When wishlists area is opened - all created wishlists are organized in tabs. Customers can easily switch between them.
Products can be moved or copied from the wishlists - one by one or in bulk.
Administrators from the back-end have ability to manage customers' wishlists. They can create new wishlists for customers in admin area, edit the existing wishlists. This can be very convenient for the customers who order over the phone or need consultations before the order.
Administrators can also create special wishlists that customers will not be able to edit - only to view and copy/move to cart.
To make your life simpler we provide IToris Installer. Unpack it to the root of your website, with it you will install and update all our Magento extensions and design themes with one click in your admin area. Read more
Full version for Magento Community Edition
Pack includes:
Extension for Magento CE 1.4.x, 1.5.x, 1.6.x, 1.7.x, 1.8.x, 1.9.x
1 month of Support
Free updates
Documentation
See the Multiple Wishlists DEMO. Register an account to see it in effect.
This video is a good quick start:
Documentation: