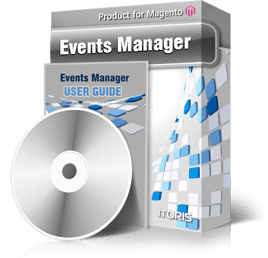 Have great events and want them to be widely attended? It's now easy with Magento Events Manager.
You will have a direct URL of the events calendar, SEO URLs for weeks, months as well as single events for better promotion and optimization.
Decide how your events calendar should look - should it show months, weeks or days, should there be sorting by time or priority, if your customers need events' search and so on.
European/US week start - Sunday or Monday, am/pm or 24 hour time to be selected. Decide how many months should be available for leafing through, starting from the current one and onwards.
Easy way to add Events link to the top right user menu (instruction in Userguide).
Need even more? Create an additional events block and insert it anywhere on your website - it will show today's events by default.
To make your life simpler we provide IToris Installer. Unpack it to the root of your website, with it you will install and update all our Magento extensions and design themes with one click in your admin area. Read more
Full version for Magento Community Edition
Pack includes:
Extension for Magento CE 1.4.x, 1.5.x, 1.6.x, 1.7.x, 1.8.x, 1.9.x
1 month of Support
Free updates
Documentation
Events Manager Video:
User Guides: