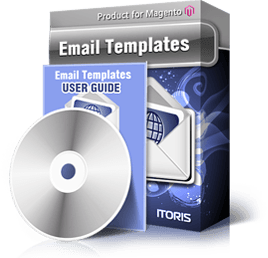 Magento is a great e-commerce, yet some of its areas need coding experience and knowledge.
Email templates' creation is no so user-friendly, though this is the core functionality, your way to communicate with your customers individually and tell them what they need to know.
With Email Templates extension your life becomes much easier - now you can create or adjust your email templates in minutes.
The main two advantages of the extension are:
WYSIWYG where you will see what you create and can edit templates in a visual way. No more need to guess what your customers will see in emails - you will know this for sure. Simplify your work.
Convenient management. All templates are collected together, no more browsing to find the one you need. Templates are organized in one list and management is applied on the same very page. Save your time.
To make your life simpler we provide IToris Installer. Unpack it to the root of your website, with it you will install and update all our Magento extensions and design themes with one click in your admin area. Read more
Full version for Magento Community Edition
Pack includes:
Extension for Magento CE 1.4.x, 1.5.x, 1.6.x, 1.7.x, 1.8.x, 1.9.x
1 month of Support
Free updates
Documentation