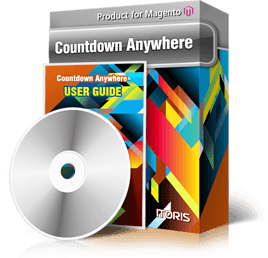 Countdown Anywhere Magento module adds countdowns literary anywhere on your website. There are several types of counters available - each having it its own settings and features.
There is a website launch countdown. Set it when your website is under construction as Coming Soon page - and your customers will know when to expect the launch as well as be able to subscribe to news. You can easily manage the design and look of the page, add your own header and footer. When the due date and time have come - Coming Soon page will switch off automatically and regular Main page will be shown instead.
One more type of countdown is displayed on products' pages for special and discounted prices. You can set it to show how much time the discount will last - or how soon it will be available in future to attract your customers' attention to special prices.
Inventory countdown is one more type - great for popular yet limited products. It can be set to show how many products are left in stock. Or if a best-seller is currently out of stock - countdown can display when it is expected back and the expected quantity.
Countdowns can be embedded in any CMS page or static block as widgets. Moreover, there is ability to temporarily substitute a page or block with an alternative content. You can add new title, new texts and images as well as embed countdown as a widget.
This is a great tool when you plan sales soon for example - you create a nice ad for the sale and set countdown there. Till the sale is started this ad will be shown, and then it will be switched back to the regular page or block.
For each of these countdowns you can select the style, one of the pre-created designs, size and display format.
To make your life simpler we provide IToris Installer. Unpack it to the root of your website, with it you will install and update all our Magento extensions and design themes with one click in your admin area. Read more
Full version for Magento Community Edition
Pack includes:
Extension for Magento CE 1.4.x, 1.5.x, 1.6.x, 1.7.x, 1.8.x, 1.9.x
1 month of Support
Free updates
Documentation
DEMOS:
Countdown Anywhere Video:
User Guides: