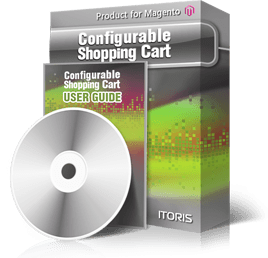 This Magento module solves the major inconvenience of Magento - it provides ability for customers to select new options and configuration of the products directly in the shopping cart.
In case your customers need to update their cart, they no longer need to go back to products' pages and edit everything there.
Configurable Shopping Cart makes all configurations and custom options editable directly on shopping cart page, thus providing ability for customers to update all together on one page.
The prices of the products will be changed on-the-fly depending on the new options selected.
To make your life simpler we provide IToris Installer. Unpack it to the root of your website, with it you will install and update all our Magento extensions and design themes with one click in your admin area. Read more
Configurable Shopping Cart
Full version for Magento Community Edition
Pack includes:
Extension for Magento CE 1.4.x, 1.5.x, 1.6.x, 1.7.x, 1.8.x, 1.9.x
1 month of Support
Free updates
Documentation
Click to View the DEMO. (Add several products to the Shopping Cart to see the extension in action)
Video Presentation:
Documentation: