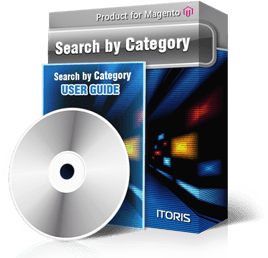 This module expands standard Magento search and simplifies the task of finding products for your customers.
Search can be added as a slider under standard Magento search field. It will slide down when selected.
There are two variants of search - you can set it to work as a filter ('search by' functionality). Your customers will narrow parameters going deep inside categories and sub-categories. At any step they can select to display the results or continue narrowing the parameters. The functionality is close to layered navigation.
Or you can set it to be an advanced search where your customers select a category (or it is pre-selected already if they are inside the category on the website) and search area is changed immediately to show only the category's attributes. Then they enter a word or phrase – and voila! – they get the exact list of items they have been looking for.
In addition to the slider search can be inserted as a widget anywhere to your website.
To make your life simpler we provide IToris Installer. Unpack it to the root of your website, with it you will install and update all our Magento extensions and design themes with one click in your admin area. Read more
Full version for Magento Community Edition
Pack includes:
Extension for Magento CE 1.4.x, 1.5.x, 1.6.x, 1.7.x, 1.8.x, 1.9.x
1 month of Support
Free updates
Documentation
Your select parameters to search by
Different parameters displayed depending on category
Two modes – search and 'search-by' filter
Two ways to add – as a slider pane or as a widget
Happy customers get what they look for!